I haven't tried much of fentys products apart from the face foundation and since I use liners often I thought why not check out the fenty liquid eyeliner or in particular the fenty beauty flyliner!
So if you'd like to see how this liner performs then continue reading as I go through my favourite aspects as well as anything I weren't too keen on the fenty beauty liquid eyeliner!
Disclosure: This post may contain affiliate links which means that I may earn commission if click and make a purchase but no additional cost to you.
Description
According to Fenty this eyeliner is a hyper saturated, super flex tipped liquid liner. They state it's your 'new be-all, end-all' for lining eyes, delivering everything one would want in a liner, and then some!
It features a water resistant formula that's said to dry fast and with a long wearing pigment that doesn't fade nor transfer, it sure sounds like a dream liner! But does it actually perform as it says?
Plus the brand mention you 'won't have to retrace your steps' or no dragging or skipping will be experienced. Which to be honest I've dealt with many times especially towards the end of the products life, so this statement surely got me excited!
Application
Starting off with the application…
The Fenty liner features a unique triangular shape which I can certainly say does make applying that little more easier as well as comfortable to hold.
I feel a product being easy to grip or hold definitely contributes to how smooth or good the eye makeup come outs, this liner being the proof.
So with the handling being a success how was the actual formula?
Fenty do promise a 'uninterrupted ink flow from every angle' which sounds a solution to many of my liner struggles.
I find it super annoying when sometimes I need to tilt the pen at an angle and don't receive the same constant flow of pigment to achieve a smooth line. It makes my eye look come out bumpy and uneven. When I try going over it, I either mess it up or end up adding more thickness than I prefer.
So as you can tell I desperately needed a 'hyper saturated' and smooth liner.
I'm not good at winged liners but I can say this liner did in a way help make my experience a little easier thanks to its flexible tip. It weren't hard that it poked my eyes but soft and gentle. The pigment was saturated like they had stated, with one stroke being more than enough for a fine line and even a thick flick.
Apparently Rihanna created it with all eye shapes in mind, how considerate!
So how was the Fenty flyliner? Well I loved it! It certainly had a smooth constant flow of colour and guess what? I finally found my dream liner in terms of smooth application but how does it perform in other areas?
Lastage
It's not mentioned how long specifically this flyliner is supposed to last however it should be long-lasting with a fade proof as well as water resistant to further strengthen the lastage.
For me it roughly got through around 9 hours until I decided to wash it off, which was easy too, that's with a waterproof makeup remover. With only water that would be a chore! Proof that it is water resistant.
Throughout the hours I didn't experience any fading neither any transferring even though I do have a habit of touching my eyes.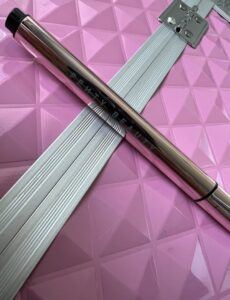 Overall
So overall I rate this liner an 9/10! I love how easily and smoothly the formula flows out, the pen shape, the lastage as well as the tough pigment. This is a great liner for everyday simple looks or a more dramatic bold finish, basically for anything where you're in a bit of a hurry but need a trustworthy and reliable friend!
If you'd like to check out the fenty beauty flyliner for yourselves then tap here!
Why not check out other cool liquid eyeliners by tapping here!
Have a great day!
Please follow and like us: