I decided to give the makeup revolution eyeshadow palette a go after looking at this brands products for quite a while, in particular their eyeshadow palette's. What attracted me most was the beautifully designed packaging as well as the price.
I also read a few reviews with mixed opinions, which didn't really give me an answer as to how their products perform so I thought I might as well see for myself.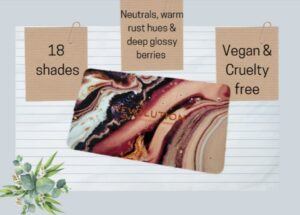 The forever flawless allure palette in particular was the one which caught my eye, due to it having a mixture of finishes in one.
So if you'd like to know as to what this palette can achieve then do continue as I go through my favourite aspects and anything which I wasn't too pleased with!
Quick overview:
Pros
Good amount of shades
Great for creating smokey eye looks
Matte shades have good pigmentation
Application and blending is easy
Cons
Shades tend to fade
Lastage isn't as great without setting spray
Here goes!
Description
Revolution beauty state this eyeshadow palette will help you 'look and feel flawless' with 18 shades including matte, shimmer and glitter. This palette is vegan and cruelty-free.
'It's the perfect palette to create a rich smokey eye'
Let's see!
Packaging
First up the packaging!
The revolution forever flawless allure eyeshadow palette has, I'd say a little heavyweight to it especially when compared to other palette's I own.
The shades are stored within quite a chunky tin.
The overall theme is appealing to the eye, it's designed with a marble effect, coloured similarly with the palette's eyeshadow in mind, finished with the brands name in rose gold within the centre.
When you open it up, you have a handy mirror at the top and your shades at the bottom with the same colouring around the edges.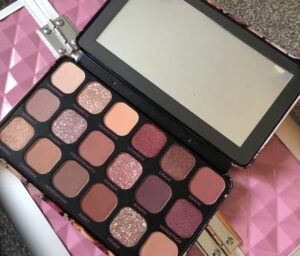 Shades
In this palette there are around 18 shades including matte, shimmer and marbled pressed glitter shadows, which I think is great for those who usually struggle to pick one type of finish, that can be me sometimes.
Most of the shades are a mix of warm and neutrals. The palette mainly consists of rusty browns, deep as well as a few light berries shades.
4 colours in particular are glitter filled, whilst the rest are mattes and shimmers.
My most used shadows are 'sensation', which is cream and applies perfectly for a base, 'charisma' on the lid and 'suave' on the crease for an everyday out look.
If I am after a dramatic look then I'll top it up with a glitter shade along with a rich berry colour.
Overall the shades in the palette make especially great for bold looks such as a smokey eye. Revolution beauty themselves state ' it's the perfect palette to create a rich smokey eye'.
Pigmentation
I haven't tried any of revolutions products let alone an eyeshadow, so I wasn't really sure what to expect, pigmentation wise.
If I judge it by price then to be honest I'm not going to be surprised if pigmentation is poor, though I would be disappointed obviously.
Okay so how did I find the pigmentation? Err it wasn't bad but it wasn't too good either.
The matte shades were the good ones with great colour pay off however the glitter shades required a few dabbing to get them to look the way I wanted them on my lids.
The problem with them was the glitter overpowered the actual colour of the shades in my opinion plus I'm not too much of a glitter fan. So I resorted to the shimmers, which were to my liking.
I was able to find a solution to fix the glittery shades, it was to wear an eyeshadow primer.
Majority of the shades are visible with just a few dabs of the colour. If I look at the price they come at then it's totally acceptable.
From this experience I'd say those who do love a lot of glitter would benefit from this palette.
Application/blendability
I use my dense eyeshadow brush to pat the base on and a pointy crease brush to help get into the crease.
They seem to go on pretty fine. Even when I use my fingers, a fair amount of product is deposited.
As for how they feel, I wouldn't say they are creamy, more towards the powdery end, which you especially notice when applying or grabbing. They do however have a fine texture.
They blend easily, moving wherever you want them to.
There was one problem which I spotted whilst blending, the colour starts to fade quite quickly if you over blend, so be careful. Other than that both applying and blending were effortless!
Lastage
I tried this eyeshadow twice, once with a setting spray and then once without. I think you can guess which one performed the best.
Correct! It was the turn with the setting spray which gave me the results I was initially after. It got through nearly a day whereas without the setting spray or primer it didn't even pull through half a day!
The colour stayed intact for most of the day but as the hours went by they gradually faded, soaked in by my oily lids I guess. But I'm not really complaining, it did well considering the few reviews I read.
So overall I think this palette would be of great benefit for anyone looking for a good priced product which has colours that can be used from an everyday look to an evening especially if you want to create a smokey eye.
The quality is in the middle, I wouldn't compare it the higher end palette's but it's definitely usable. I'd give it a rating of 7/10!
Why not check out other awesome vegan eyeshadow palettes by tapping here!
Do you have a favourite go to eyeshadow palette which you'd like to share? Drop them down below!
Have a great day!?
Please follow and like us: