Let me guess you are here to check out some of the best organic lipsticks around?! Oh even better, that are vegan and cruelty-free too!
Well then my guess is correct and you are at the right stop too! I suggest you come along then, what are you waiting for!
Quick Overview
PHB ethical beauty organic lipstick
Inika organic lipstick
Axiology lipstick
100% pure fruit pigmented pomegranate oil lipstick
First up we have….
Phb ethical beauty organic lipstick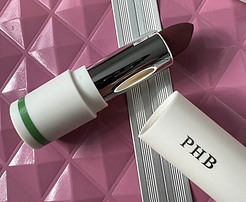 The phb ethical beauty organic lipstick is 74% organic and 100% natural. It's ingredients are created without any synthetic dyes, animal fats or harmful toxins. These plant based products are also hand made too using food grade ingredients.
There are various creamy and long-lasting shades available, something for everyone. From light natural shades to bolds. The rich and deep texture is derived from pure mineral pigments so there's no junk here!
According to the brand these lipstick help keep lips looking youthful, prevent collagen destruction, repair dryness as well as soften all thanks to the addition of Organic Rosehip Oil, vitamin E and jojoba oil.
Inika organic lipstick
The Inika organic lipstick is a 100% natural and 78% organic formulated according to the brand. It's also sustainable with 90% of it's new packaging being made from reused materials.
Thanks to the organic botanical extract, this lipstick provides hydration as well as protection from harmful elements whilst also offering long-lasting pigment. Application should be easy peasy as this lipstick is said to possess a creamy texture which should offer nourishment too!
Some awesome ingredients the organic lipstick is enriched with include vitamin E, 'healing' jojoba oil, antioxidant rich shea butter and last but not least argon oil, that's apparently loaded with rejuvenating essential fatty acids.
If you'd like a more in depth review then tap here!
Axiology lipstick
The axiology lipstick has a texture of a lip balm but a look of a lipstick, a perfect combination, lightweight yet it has the ability to deliver rich and long-lasting pigment.
Talking about pigment these lipsticks obtain their colour from mineral powders, all completely free 'synthetics, parabens, palm oil and petrochemicals'.
The brand state around '70% of the ingredients' are organic with no animal derived ingredients too. Nourishing oils also help give this lipstick a creamy texture and provide lips with nourishment all day long.
Moving onto…
100% pure fruit pigmented pomegranate oil lipstick
The 100% pure lipstick as you can tell by the name is made from a bunch of fruits, the pigments are derived from fruits like plum, raspberry, and grape. The 100% fruit lipstick has a satin finish with the ability to provide full coverage.
Apparently these lipsticks have anti aging benefits too which comes from the pomegranate seed oil. Ingredients like rose petal soothes and moisturizes whereas blackberry reduces wrinkles and protects from sun damage.
Well that's it for now peeps, hope you enjoyed it!
Have a great day!
Please follow and like us: