Why wouldn't I want to give the Rare beauty bronzer stick a go! I have had a positive experience with the rare beauty products I do own so I thought this one is bound to be similar. Besides, I am actually in need of a bronzer, I don't own many!
So if you would like to know if this warm wishes effortless bronzer stick is going to carry on the positive experience or disappoint then please do continue reading!
Disclosure: This post may contain affiliate links which means that I may earn commission if click and make a purchase but no additional cost to you.
Description
The warm wishes bronzer is labelled as a 'breakthrough' bronzing stick which blesses you with an instant sun kissed glow with a finish that's no different to your skin, basically a second skin.
The bronzer is quite liquid like according to the brand with a creamy consistency that melts into the skin without fading too.
The bronzer should not feel heavy since it is formulated to be non greasy, cause no creases as well as not clog pores. Rare beauty do promise this bronzer to be weightless and easy to apply thanks to its smooth texture. You should be able to blend it effortlessly just like the name suggests and even build to a natural finish.
Shades
The effortless bronzer stick comes in 8 shades which is a decent amount in my opinion considering bronzers usually down offer many shades, maybe 3-4 max at times. The Rare beauty bronzer offers hues with various undertones which include neutral, golden as well as cool.
Their fairest shade is 'power boost' which is described as a true tan with neutral undertones. The deepest would be 'true warmth', a deep amber with red undertones. Other shades include 'happy sol' which is a light brown with cool undertones, 'full of life' is a deep bronze with golden undertones and a bunch more!
At first, I weren't too sure which one to go for, I mean I was aware of the approximate shade however a little stuck on which undertone to go for. I have a cool undertone but would that mean I should get a cool undertoned product too?
Well that is what I went for anyways which meant I selected the shade known as 'happy sol', 1 of 2 shades with cool undertone. Did it match? I think it fitted well, not too deep but a perfect warm touch.
Application
After reading the description written by the brand I was definitely expecting a smooth and effortless application. With phrases like 'smooth-glide texture' as well as 'blends seamlessly', I'm sure everyone would! So did it live by its words?
Thankfully yes! I applied directly from the packaging as I am going to be the only one using it and I'm certain that is the method of application, I mean usually I apply onto a cotton pad or something else.
Okay enough of the blabbing so applying it was smooth like I said. There were no hesitation, pretty quick too. One swipe like rare beauty stated was enough for me to achieve that defined look as well to add warmth.
I swiped it onto my cheekbones, and some on my nose then gave it a blend using my fingers which I would like to say was pretty smooth too! For cheekbones, I switched to a brush to of course make the process much swift. I can agree when the brand state it is 'ultra blendable'! I feel like the creamy almost liquid like consistency has some part to play too.
Lastage
I wasn't sure what to expect when it comes to the bronzers lastage since the brand don't reference it's potential. But from experience and knowing this makeup type, they aren't obviously going to be as long-lasting as say foundations or concealers.
So the rare beauty warm wishes effortless bronzer stick provided me with roughly 5 hours of warmth and definition until I noticed gradual fade.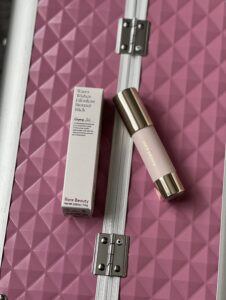 I am not complaining and actually quite happy with the results. The pigment is quite good though, I wouldn't say highly pigmented but it does hold a significant amount of richness, enough to show great results with one swipe. It is easily removable with a waterproof makeup remover, no scrubbing required despite its water resistant formula.
Overall
So overall I give the rare beauty bronzer stick a rating of 8.5/10! It provides a great warmth as well as definition. The amount of shades available is really thoughtful along with the creamy consistency making it a breeze to apply as well as blend. I also am a fan of how it can be used as more than a bronzer, apply as an eyeshadow or on other parts of the face.
The formula gets along with my sensitive skin which I am grateful for since it is non comedogenic and usually my skin would react by becoming irritation.
That's it for now peeps!
You can check out more awesome vegan bronzers in stick form!
Or if you prefer the compact creamy form then visit here!
Have a great day!
Please follow and like us: