The refy brow pomade is a uniquely designed brow product, holding both the pigment and applicator in one average sized tube. The refy pomade is all about creating the laminated brow look which you'd usually get in a salon.
If you want to see how this pomade really performs then continue reading as I go through my favourite aspects and anything I weren't a fan of!
Quick overview
Pros
Formula consistency is good
Little goes a long way
High pigmentation
No smudging
Great lastage
Cons
Applicator seemed a little messy
Description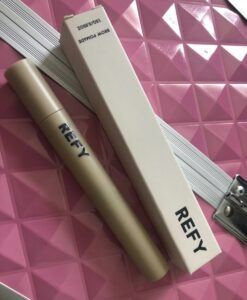 Refy state this pomade allows you to 'add depth and shade' to your brows using their cream based formula. The creamy consistency helps make applying smooth and easy, it then dries down to a matte finish which should create a long-lasting result.
The pomade is said to be long-lasting as well as smudge proof, staying put until it's washed out.
The brow pomade is available in three shades, light, medium and dark. The light shade is suitable for blonde or light hair, medium for medium brown, and dark is great for dark brown to black hair.
However, the great thing about this brow pomade is that you can 'build up each colour' to create a mixture of different shades.
With refy brow pomade, there is a three stage process to create the ultimate brow which consists of brow sculpt, pomade and pencil. It isn't necessary but recommended. I personally have the brow sculpt and pomade but not the pencil.
Application
The refy pomade is a little differently designed compared to other pomades I've used, it has two accesslable sides. One contains the pomade itself whereas the other end is an applicator, an angled designed brush.
So the brow pomade is supposed to go down smoothly with the help of its cream based formula but does it?
Well I'd say the formula is an easily appliable consistency, you can brush along the pomade and it'll follow along simply.
However I find the brush could be a little problematic for individuals with thin brows, I mean it is possible, basically a little more concentration is required to create thin hair like strokes as it is on the thicker side when looking at other brushes.
For me it was fine as I have medium-sized brows and only needed to fill the sparse areas towards the front end of my brows.
You could use another more precise applicator but would need to grab the formula out of the thin tube first unless your brush does fit in the narrow packaging.
I haven't used all the formula yet but I'm guessing it may be a little tricky grabbing the formula towards the end.
Pigmentation
Majority of the pomades I have been using are quite pigmented, which is probably the reason why I prefer them over powders, I can say the same with this pomade too!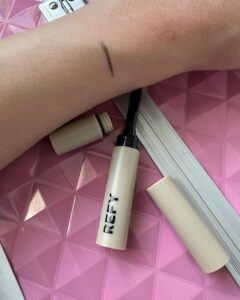 You literally only need to grab a small amount onto your brush and voilà, it's enough to create visible natural looking brows. Less is for sure more.
The brow pomade overall is highly pigmented therefore producing a rich hue even with minute amounts so be careful not to over apply.
Lastage
Moving onto the lastage, and I can happily say it lasts a whole day, well definitely for more than 6 hours. And in that time it did not smudge or transfer which kind of surprised me as I often touch my brows.
So overall I rate the refy brow pomade an 8/10! The lastage is awesome, the pigmentation too and it's unique packaging however it would have been cool if the brush could apply a little more precisely but other than that I'm happy with it!
I think this pomade would be a great choice for anyone who is after a long lasting brow, not only in wear time but the actual product too since the pigment does have some punch to it!
If you prefer brow pencils then tap here to check out some awesome vegan examples!
Or if you much prefer the creaminess of pomades then you can click here for similarly awesome products!
Have a great day!
Please follow and like us: