Here are some awesome cruelty free false eyelashes which don't even hurt a fly. They not only exclude cruelty to animals but are super affordable and do just as well!
So continue reading if you want to check out these cool lashes!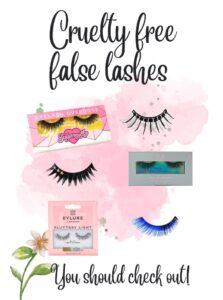 Elf trouble maker faux mink lashes
The elf trouble maker faux mink lashes is a vegan and cruelty-free lash. It does seem like its here to cause some trouble but trust me it doesn't. However, what it does do is certainly add great drama!
If you're looking for lashes which create a nice full look to complement your eye look or for whatever reason, then the elfs faux mink is a decent priced product. Though they are a little thick, they're said to be lightweight.
Eylure falsies
Eylure falsies have quite a great number of eyelash collections, ranging from natural size to lengthening, volume, intense, dramatic and much more. There's well over 50 sets to choose from. Something for everyone! Plus they're vegan and cruelty-free!
Most of the lashes do come packed with a glue, the ones that don't are pre glued so you can get straight to applying, note the glues are all latex free. They can be reused a couple of times too, around 5 wear and last up to 18 hours!
Pur pro eyelashes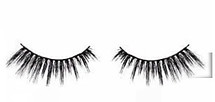 Pur do offer a few other lashes however the pro lash in particular was created with Mlanie Viger, a celebrity makeup artist to help 'bring the best industry knowledge to the lash development'.
The lashes are handcrafted from the finest cruelty-free silk providing not only ultra lightweight but natural looking fuller lashes.
They're suitable for contact wearers, durable and reusable for up to 30 wears! WOW! Super quality!
Manic panic
Looking to really glam up your look?! Then I suggest you check out manic panic lashes! There are many options available depending on the 'fierceness you require', going from natural, intense, bold and even sparkly. What sets the manic panic lashes apart is their funky colours.
You get to choose from the usual dark shade, blue, green as well as multi coloured lashes. There are also ones with multicoloured glitter dots, coloured and metallic strips and even crystals. Very glam indeed!
Sugarpill lashes
If you want to take your look to the next level, sugar pill lashes are the ones you have got to check out! There is literally a good amount of uniquely designed lashes to pick from. A few of them include extra long lashes featuring winged outer edges
There is not only upper lashes but lower ones too, some you can use both top and bottom lashes. Sugar pill state you can 'create the perfect doll eyes' with their synthetic lashes that can be reused a number of times.
Sugar pill don't provide glue with their lashes so don't forget to grab one!
Right that's it for now peeps!
If you aren't a massive fan of falsies then why not check out vegan mascaras by tapping here!
Do you prefer false lashes or is mascara your thing? Let me know in the comment section below!
Otherwise have a great day or night!
Please follow and like us: