The best makeup highlighter actually depends on what you are looking for in a highlighter. Do you prefer liquid and cream highlighters or powder form?
The type of skin you possess can also influence what highlighter you may choose, for example oily skin peeps may prefer powdered highlighters but that doesn't mean other forms won't work out. That's all up to you!
Anyways shall we get started? I think so! Okay so below are a bunch of some of the best makeup highlights which are vegan too! Enjoy!
Quick Overview
Milk makeup highlighter
Cover fx enhance click highlighter
Elf jelly highlighter
Refy gloss highlighter
Lily lolo mineral highlighter
Milk makeup highlighter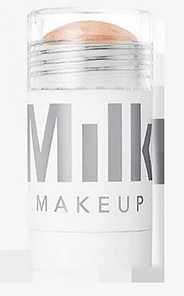 This vegan, cruelty-free and talc free highlighter by milk makeup is a 'multi use, pearlescent cream' product packed in a stick form. It's said to glide on and blend 'seamlessly' leaving a natural radiant glow. It's available in 3 shades.
This highlighter has a creamy consistency making it easily buildable and is said to provide a long-lasting hydration.
The milk makeup highlighter can be applied to cheekbones, brow bone, collarbone, shoulders and legs. Quite versatile!
Cover FX enhance click highlighter
Another highlighter in the form of a stick, the cover FX enhance click allows you to achieve a 'luminous glow' with a hint of colour too.
The click highlighter comes in six universal shades which allow you to mix and customize to create your own 'perfect glow'. This highlighter is also said to be travel friendly due to its small size.
Elf jelly highlighter
The elf jelly highlighter has won the 2020 glamour beauty award thanks to its cool 'smooth, jelly-textured' consistency.
It blends into the skin for a 'luminous, glowing skin' effect. You have the option of picking between 3 shades, a white gold, rose gold and bronze gold.
Elf state this highlighter can be worn alone, over makeup or even mixed into your foundation. The jelly consistency does apply on wet but quickly dries down to a long-lasting glowy finish.
Refy Gloss Highlighter
The refy gloss highlighter features a universal formula which you can not only use on top of your makeup but as a primer base too, leaving you with a 'perfect glass glow'.
You can apply on the cheekbones, eyelids, lips, collarbones, under brows and Cupid's bow.
If you're a fan of natural ingredients then you're going to want know this highlighter is formulated with natural oils and minerals, helping to add moisture and a smooth and silky appearance. The oils also make blending super easy.
Lily Lolo mineral highlighter
The lily lolo highlighter comes in powder form, its grinded into a 'ultra fine' mineral powder which is said to be gentle and lightweight on the skin.
The mineral shimmer is great for anyone wanting a 'luxuriously sheer, shimmering and glistening' finish.
Lily lolo state this highlighter is suitable for all skin types and is oil free too. Sensitive skin peeps also don't need to worry as its non comedogenic.
Elf halo glow liquid filter
I had to add another elf highlighter on the list since they are super affordable too. The elf halo glow liquid highlighter is a new comer but a fast favourite among fans. I guess it's multiuse feature plus its flexible 8 shade range could be the reason. It can be utilised in 4 ways, under foundation, over foundation, even mixed with your favourite product and as the usual highlighter.
This liquid glow booster is infused with hydrating ingredients like hyaluronic acid and squalane creating a 'soft-focus social filter effect' in real life! It is not only suitable for a diverse range of skin tones thanks to it's flexibility, it's great for normal, dry, oily as well as combination skin types!
If you'd like to check out foundations to help create a good base then tap here!
Have a great day!
Please follow and like us: