The bare minerals lashtopia mascara dropped into my daily makeup routine, when looking for an alternative to kat Von D's mascara. I had ran out of Kvd so thought it'll be a good idea to look for something new to try out so after a few page scrolls, I landed on the lashtopia mascara!
If you'd like to know my favourite aspects of this product as well as anything I weren't a fan of the bare minerals mascara, then please continue reading!
Beginning with what the brand state this mascara is here to achieve!
Disclosure: This post may contain affiliate links which means that I may earn commission if click and make a purchase but no additional cost to you.
Quick Overview 
pros
Easy to use applicator
Flexible brush
Great for sensitive eyes
Decent lastage
No smudging
Visible results
Cons
Description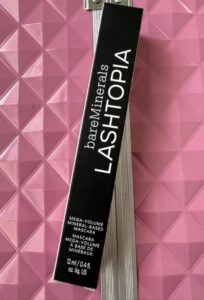 The bare minerals lashtopia is a mineral based mascara that's said to be free from paraben, gluten, synthetic fragrance, cruelty-free and is vegan too!
The main aim of this mascara is to 'dramatically volumize lashes' hoping to create 'fluttery fanned out fullness'. Bare minerals state you get all this whilst the formula works on 'nourishing and conditioning' your lashes.
According to their site, a consumer test consisting of 29 individuals, 100% agreed their lashes looked fuller. Sounds promising though.
So let's see how good it is!
Application
The brush or wand which comes with the mascara is a tapered shape with around 600 bristles according to their site, it's also ment to be fluffy helping to coat each individual lash from root to tip.
But I was most excited about the 'fluttery fanned out' look as I haven't really experienced that result in a while.
I would like to say bare minerals did a good job in creating the brush, it's not too hard, flexible for sure making it soft and gentle on the lashes.
The bristles are layered with different lengths which is actually quite effective in covering majority of the lashes.
It also does achieve a somewhat 'fluttery fanned out' look just like bare minerals stated. I think I can say it's probably one of the best lash brush I've used in a while!
Formula
For me a good formula is the one which is water resistant, long-lasting and also doesn't dry up hardening my lashes. There are quite a few mascaras I've tried which just stiffen my lashes, to the point that blinking feels unnatural.
I have also noticed dry formulas tend to flake more often and become a chore when removing them.
So how was the lashtopia formula?
I'm pleased to say that the formula was overall great, it wasn't overly drying neither too wet, it was just right. Kinda like the 'whipped mousse' consistency, bare minerals mention.
But I would like to add, the mascara did flake a little after a few hours, nothing too serious though.
Oh did I forget to mention it was great for my sensitive eyes too, whilst using it, my eyes did not water or get irritated so I guess that's a thumbs up for the formula from my eyes!
Performance
The bare minerals lashtopia mascara should not flake, smudge neither clump. I'm pretty sure we're all looking for these features in order to consider a mascara as a great and successful product.
And of course long-lasting, along with volumizing effects that actually works.
Anyways enough said, so how well did it perform in this area?
Well I can say it does a good job in adding volume and a little drama even though my lashes are naturally long, I can definitely tell the difference when I've applied, with even one coat.
However I'd say the second coat is when the magic happens. My lashes were given visible length and volume.
As for its performance, like I've mentioned before I did experience a little flaking towards the end however it did not smudge or cause any clumps. It lasted long too, I'd say it was around 6 hours it stayed tough!
So the verdict on bare minerals lashtopia mascara?
Overall I'd rate the bare minerals mascara an 9/10! It's great for sensitive eye peeps, lasts long, doesn't clump or smudge apart from the flaking it's a great performance. It certainly adds volume to lashes just like bare minerals state.
Though it is priced on the higher end, I'd say it is worth it, compared to other of its rivals in the same price range, it definitely beats them in many aspects. You can view the lashtopia mascara here!
If you'd like to check out more awesome vegan mascaras then tap here to check them out!
Have a great day!
Please follow and like us: