Since I am a massive fan of brow gels I thought why not check out the kosas brow gel. I mean the design is pretty attractive but surely there is more to it. Only one way to find out and that is by putting it through some tests!
So if you would like to know how the kosas air brow gel performs, then I suggest you continue reading to find out my favourite aspects as well as anything I weren't a fan of!
Here goes!
Quick Overview 
Pros
Decent sized applicator
Provides a feathery soft look
A wide range of shades
Cons
Small quantity packaged
Not as long lasting in pigmentation
Description
The kosas air brow gel is best described as a tinted brow tint with a unique texture, a 'moussey-gel'. The moussey gel apparently helps create airy, feathery brows, plus the addition of beneficial castor oil, pantheon pro vitamin B5 and biotinoyl tripeptide don't only ensure brows reach full growth potential but also help revive them for a healthier, fuller looking brow!
Now that sounds like something I am in need of!
There is also an addition of biodegradable plant based fibres which 'Boosts brow volume plus fullness'. It is basically a much needed treatment with addition of tint! Besides all the goodness hidden inside, the air brow gel offers a 'soft & flexible hold' that's long-lasting along with being easy to use.
Shades
The shade range is great, offering around 10 shades with the option a clear tint too! The lightest shade in there range is 'taupe' which is best described as a cool blonde. The deepest tint is 'black' that is of course a black colour. Kosas even include a grey shade which is quite thoughtful in my opinion.
In between the lightest and deepest spectrum, there are light to medium brown, soft brown black, auburn as well as dark and warm golden blonde. The shade which best matches my brows is the dark brown which is rich dark brown in hue.
Application
Though the kosas air brow is quite small in size, which equals a tiny applicator, I found applying to be easy. The minute size allowed me to coat my brows and brows only. Im saying this as sometimes the applicators are so large that I end up covering beyond my brows, creating an over the top, extra thick, dramatic look!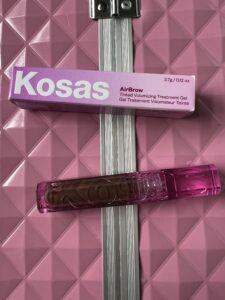 The spoolie is a triangular shape, different to the usual types however I didn't experience any difference except for the small size. Oh actually I did notice slight variance, I was able to use the corner to neat up the edges of my brows whereas usually the square, blunt ends would usually not allow me to do this without effort.
Kosas state their applicator 'boosts and lifts each hair' which I can agree, the short scale gives the applicator a firm hold which reflects on its ability to lift as well as coat each hair. A job well done, if you ask me!
Just to add the design of the brow packing is quite decent, it features a see through tube, allowing you to easily get a glimpse of the shades. The clear tinted gel bottle has an even more cool looking appearance thanks to its transparent iridescent colouring!
Performance
Kosas talks about how this brow gel aims to create 'bold, full, yet effortless-looking' brows along with conditioning benefits too, so does it achieve that?
In my opinion the air brow gel does indeed add a decent amount of volume, especially if you follow the brands advice on running the brush backwards, starting from tail end to inner corner, finishing by then brushing through how you would usually.
I have what I would consider as short brow hair and still surprisingly managed to achieve a fuller look. I guess the biotinoyl tripeptide -1, whatever that is, does actually do the job!
I would say it does add some depth to my brows, the rich brown gives a nice appearance of a fuller, bold effect. The pigmentation is fair enough, I wouldn't call it high pigmented, it has just the right amount of stain. The pigment is to my expectation a great balance, too rich creates a rough and unnatural effect whereas a light one hardly gives off any finish.
The texture I would describe as soft and creamy which when to dries up doesn't leave a sticky or any assert of stiffness, signifying kosas 'soft and flexible hold statement as true!
As for the hair health benefit, I think I'll have to use it for a while to notice any goodness. Having said that though, I definitely think the soft texture of my brow has been as a result of the work of kosas brow treatment. Plus I haven't experienced as of yet any hair fallout which is a common issue whenever I use beauty products on them.
Lastage
With the lastage I weren't too sure as to what to expect since kosas don't mention specifically or should I say approximately how long it'll hold on for. They do however state it is a 'long wear, tinted moussey-gel'. I mean usually you can roughly get around 4-5 hours of bold brows before it starts to fade so I was predicting something similar here too!
So what was the outcome? Well the brow gel managed to stick around for 4 hours till I noticed its first weakness in the form of fading. Other than that it performed pretty well. There weren't no clumping or flakes either.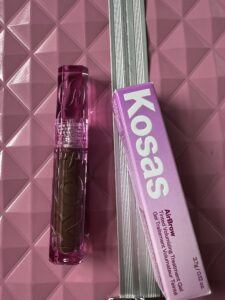 Overall
So overall I give the kosas brow gel a massive rating of 9/10! I love the design, the applicator is a good size, texture as well as the results after drying are amazing. It actually does what it says according to the brand too! I received bold and full brows that actually gave a feathery soft look. The addition of beneficial properties certainly gives the gel a bigger advantage over many gels I've tried.
I also admire how this brow treatment can be used not only on its own but alongside other brow products too! The shade range is something to talk about too. The only downside I can think of at this moment is the quantity of the product, it appears quite less so I'm wondering how long it'll last with regular use.
Right that is it for now peeps!
But if you don't want to leave then I suggest you tap here to check out more awesome vegan brow gels!
Have a great day!
Please follow and like us: