Want to know what the best oil based makeup remover is? Well you are at the right spot! Check out these vegan oil based makeup removers that go beyond removing makeup!
And if you're not a fan of oil based removers than fret not as you can check out other types of makeup removers out there here!
Let's get into it!
The body shop camomile dissolve the day makeup cleansing oil
The body shop camomile dissolve the day cleansing oil does exactly that, dissolves all traces of makeup in no time effortlessly and that includes stubborn eye or face and even lip pigments! The great thing about this cleansing oil is that it is produced using around 95% natural derived ingredients, that are all vegan and cruelty-free too!
The way you work this magic potion is by firstly squeezing a little of it onto your fingertips and massaging it into your skin
It should leave your skin silky soft along with feeling 'cleansed, comforted and refreshed'. The formula is said to be light with no greasiness, gliding along with your commands. If you have sensitive skin then fret not, since their formula is stated as suitable for all skin types!
Glossier milky oil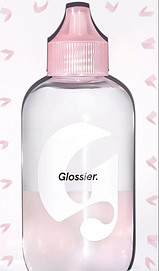 'Tough on makeup, nice to skin', is what the brand state about the glossier milky oil. This gentle makeup remover 'melts off and lifts away' makeup that are said to be long-lasting and even waterproof formulas! What's even more cool is that no rubbing or tugging is required which would otherwise cause skin irritation.
The formula the glossier makeup remover is quite unique, it can be described as a 'perfectly-proportioned' combination of micellar water mixed with a weightless oil creating a 'dual-phase formula' that is here to dissolve your makeup away. The addition of Comfrey Root Extract along with Pro-Vitamin B5 ensure your skin is left feeling soft and refreshed after each use!
Thatcha the camellia cleansing oil
Suitable for all skin types, the thatcha cleansing oil is a 2 in 1 makeup remover and cleanser! A nice and useful combination! It uses camellia oil to get rid of not only tough makeup and sunscreen but also melt away excess oil.
And the end result? Well it promises to nourish your skin to unsure it is left feeling 'softer than silk'! Now that must feel good!
It cleverly cleanses the skin without stripping away the natural moisture whether your skin type is oily, dry, combination, or blemish prone, all is welcome! No wonder is a best seller! A perfect product for your skincare ritual, I'd say!
Peach and lily ginger melt oil cleanser
An allure best of beauty winner, the ginger melt cleanser by peach and lily is not only vegan and cruelty-free, it is PEG free and gluten free, safe for the earth and skin alike! The cleanser is best described as 'modern oil cleanser' designed to melt all makeup with 'zero residue, zero breakouts' within seconds!
A deeper look at the ingredients will show ginger melt as a non drying and non clogging whilst offering anti oxidant properties. Pineapple, papaya along with sunflower and grape seed oil help soothe, refresh and balance the skin for a spot less, no greasinesses or waxiness look!
Purito from green cleansing oil
This plant based cleansing oil is suitable for every day to use for the effortless removal of stubborn makeup, break down of oil as well as sunscreen. It transforms into a milky medley providing a 'sensorial' feature in your cleansing routine
The ultimate goal of the hydrophilic oil is to cleanse the skin, restoring balance and bringing radiance to your skin for a 'soft, supple texture'. The natural oils featured in the purito makeup remover include olives, sunflower seed, jojoba, sweet almond and grape seed. I mean all that, there is bound to be some awesome results!
Right peeps, that's it for now!
But if you really don't want to leave then I suggest you tap here for more awesome vegan cleansers!
Have a great day!
Please follow and like us: