The hourglass eyeliner or more specifically hourglass voyeur waterproof gel eyeliner is according to the brand one of their best-sellers.
The hourglass waterproof gel eyeliner is clean too being formulated without a good deal of junk like paraben, petroleum, sulfates, phthalates, synthetic fragrance and the list goes on. Since I have sensitive eyes this is the kind of product I'm after.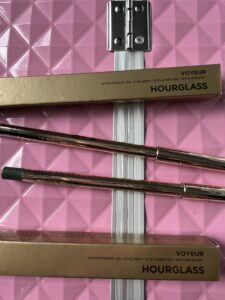 Anyways if you'd like to know if the hourglass eyeliner is a keeper than I suggest you continue reading to find out as I go through my favourite aspects and anything I weren't a fan of.
Description
The hourglass waterproof gel eyeliner is described as a pencil that delivers 'high impact' colour so we should be expecting some serious colour payoff. Along with that the gel eyeliner offers not only waterproof, smudge proof, but budge proof results too!
The waterproof eyeliner should provide long-lasting results, up to 12 hours all day wear requiring no touch ups either! Application is easy thanks to the creamy texture that should glide along easily, allowing you to create precise lines as well as add definition.
What is also great to know about the hourglass voyeur waterproof gel eyeliner is that it is formulated without many junk including mineral oil, petrolatum, sulfates, talc, synthetic fragrance as well as many more! A great thing to know right?!
Shades
The voyeur waterproof gel eyeliner comes in some exciting colours. You get to pick between 5 'high impact' shades with 2 different finishes too. They are as follows:
Cave – a brown in matte finish
Obsidian – a matte black shade
Chestnut – a chestnut colour in a matte finish too
Solstice – metallic shimmer finish bronze
Forest – a beautiful forest emerald in a matte finish
As you can tell hourglass only have 1 shade in the shimmer finish at the moment which is a little let down but other than that the small selection of hues that are available are a great choice.
I really like the emerald green as well as Solstice. Solstice is a nice warm shade ideal for any soft shimmery effect whereas the green seems a nice change for a look.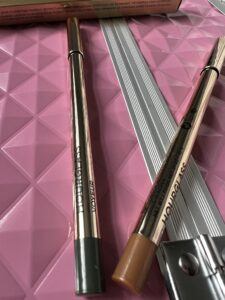 I was stuck between selecting the emerald and the solstice shade so what did I do? Well what would you do if you couldn't decide which one to go for and they are both just as awesome? Exactly, you take them both home! So that is what I did!
Application
So hourglass do mention that their gel eyeliner should 'glide on effortlessly', plus with the addition of a creamy formula, I am definitely expecting everything to go smoothly.
So how was it you ask?
I can say the brand were quite right when they said applying should be effortless. I found the hourglass gel eyeliner did nicely follow along to my commands without feeling too rough or pointy. The formula does have a soft texture to it which helps me apply easily near the water line, somewhere I daily apply.
The pencil itself has a nice smooth surface to it which makes holding it comfortable too, equaling decent results. The hourglass voyeur has a good tip which surely leads to precision since I was able to pull off a crisp wing which usually isn't always possible with creamy textured liners yet here we are rocking the winged look
Performance
Let me start off with one of my favourite aspects of the liner, that is the pigmentation! 'High-impact colour' is certainly there with the gel liner. I like how even the deposition of colour is with each swipe, it has a nice rich tone to it.
Going onto the 'smudge-proof, budge-proof' claim, I would say this is true to an extent. It did do well for a considerable amount of time however when it came towards the end, I did notice the pigment had dragged down a little.
I mean it could partly be due to not using a concealer since I typically go bare face but swipe on some eyeliner resulting in panda eyes.
It wouldn't be fair if I were to leave it at that so I decided to use some concealer and the results were positive! The liner did much better though it did end up with a similar issue except at a later time and less obvious. So overall I would say performance wise it is a job well done!
Lastage
The hourglass voyeur waterproof gel eyeliner should provide up to 12 hours of awesome results which if you go by the above statement, you maybe able to guess everything went pretty much smoothly. And lastage wise I think I can say the same thing.
The hourglass voyeur waterproof gel got through roughly 9 hours, clean and smoothly with no signs of weakness. There were also no major issues such as bleeding. However around 10th hour, there were minor fading. This didn't bother me since it had pretty much done well for most the part so a thumbs up!
Overall
Overall I am really impressed with the hourglass voyeur waterproof gel eyeliner, giving it a sold 9/10! I don't give that score much often but when I do, I know it's a keeper for sure! I think this liner is ideal for anyone looking for a liner that can be worn close to the eyes without having to worry about it melting away. It offers a nice and rich hue with a creamy soft texture that glides along to your commands.
If you are looking to create precise lines than this would be a great tool since it also offers a good collection of shades too!
Why not check out more awesome gel liners here!
Have a great day!
Please follow and like us: