The thing with sensitive skin is often you feel like no foundation can be matched with your delicate skin, it just always seems to react! Reactions could include redness, itchiness, dryness and many other forms that may be unique to you. But the good news is, with these best makeup foundation for sensitive skin hopefully reactions will be a thing in the past.
A good formula for this type of skin is one without heavy fragrance or harsh ingredients as they aggravate the skin even more. Products with moisturizing and hydrating formulas are a big help for skin reactions like dryness.
For sensitive skin, foundations that come in a mineral form are usually the most suited type. They usually contain natural ingredients and are chemical free. You'll often see foundation for sensitive skin are rich in ingredients like:
Aloe Vera
Extracts like green tea
Shea butter
Jojoba and many more!
Other ways to help your skin stay calm is by making sure you clean your brushes thoroughly before and after (everyone should be anyways), don't buff to hard and try using more softer bristle brushes.
Quick overview
Elf acne fighting foundation
Inika certified organic liquid
Cover FX total cream foundation
Anastasia Beverly hills luminous foundation
Bare minerals original foundation
Okay let's start now! Check out these best foundation for sensitive skin!
E.L.F acne fighting foundation
This acne fighting foundation by e.l.f provides its owners with a full coverage whilst also being lightweight. You could expect goodnesses such as 'even skin tone' and 'reduced acne redness as well as a clear skin.
Why is it good for sensitive skin, you ask?
Well firstly it's free off parabens which often irrate the skin and secondly it's infused with ingredients like 'salicylic acid, witch-hazel, camphor, tea tree, and aloe' which helps soothe the skin and help fight blemishes.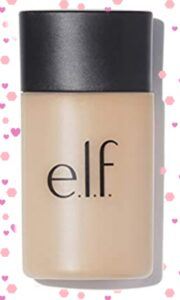 If you'd like more details on this foundation then click here!
INIKA certified organic liquid foundation
The foundation that lets you create a natural buildable coverage, infused with excellent ingredients that will 'hydrate and illuminate your skin'.
I feel like this foundation is made for sensitive skin as it contains '70% organic ingredients', has 'hydrating properties of a moisturizer' which will definitely help tame dryness.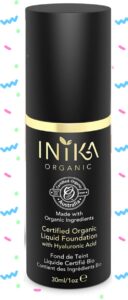 It doesn't stop there, it's plenty filled with skin caring botanicals like 'soothing and antibacterial Lavender' and anti-ageing formula.
This product mainly consists of 'natural antioxidants, vitamins and minerals' so it's no surprise that it's hypoallergenic. These aren't the only benefits there are many more!
For a review on the inika foundation tap here!
Cover FX total cover cream foundation
Cover FX state you can 'achieve a flawless complexion' with their creamy 'anti oxidant packed formula made for full coverage. It's two in one, a foundation and a concealer!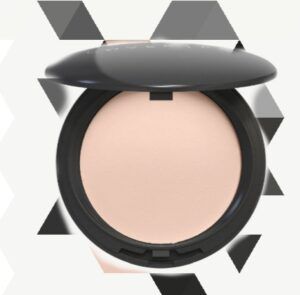 Guess what? it's free from Parabens, talc, phthalate, sulfate and fragrance.
No wonder it's great for sensitive skin! These aren't the only factors that make it suitable for delicate skin, as it's 'packed with vitamins C, E and F' and soothing emollients to protect the skin.
If you want to see the full review click here!
Anastasia Beverly hills luminous foundation
A water-resistant liquid foundation that is long-wearing and allows you to achieve a medium coverage whilst also being 'weightless'. Cool huh?
It's also available in a whopping 50 'completely natural shades' which are easily blendable and allow imperfections to be blurred.
Like the cover FX, Anastasia Beverly hills is formulated without Parabens and talc as well as gluten and alcohol which can often increase dryness.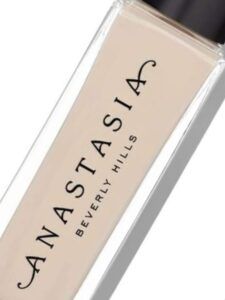 The formula being 'non-comedogenic' means your less likely to have a breakout or get blocked pores.
Discolouration and unevenness can be blurred easily as well as other imperfections without looking cakey.
Check out the full review here!
Bare minerals original foundation
Available in 30 different shades, bare minerals have created a natural, lightweight and at the same time long-lasting loose foundation for all skin tones and types.
This particular product protects you from the sun thanks to the SPF 15.
Apart from being natural, it's also made from 'five non-drying mineral ingredients' so your skin for sure won't be irrated.
Bare minerals say 'this foundation is so pure that it won't cause breakouts-even if you sleep in it'. WOW! That says a lot about how natural and suitable it is for sensitive skin.
Check out the full bare minerals review here!
So there you have it, a bunch of great foundations for your sensitive skins to try out!
Tap here to view best vegan makeup removers for sensitive eyes!
Or here for primers made for delicate skin!
If you have acne prone skin then you might want to take a look at these awesome foundations!
Have you tried any of them? If yes what did you like about it?
Drop them down below in the comment section!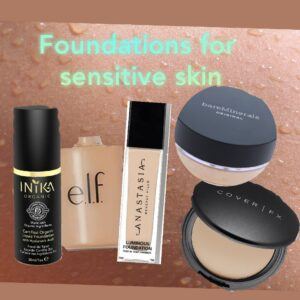 Have a great day!?
Please follow and like us: