As you grow older, you start to notice that a few of those foundations that you used to love and wear back then, aren't really doing your skin justice anymore, WAHHH! This may lead you to search, far and wide for the best foundations for aging skin, and unless you have plenty of time, you want them dished out to you. So that's why I'm here!
For those of you who don't know, mature  skin includes characteristics like dry or dehydrated skin, hyper pigmentation, age spots, lack of firmness, wrinkles and many more.
A good foundation would be the one that helps your skin appear youthful and glowing without settling in creases or fine lines. And if it contains any other benefits, well then that's a great bonus!
Below are a bunch of those amazing foundations that surely your skin will love!
Quick Overview
Charlotte Tilbury magic foundation
Sappho essential liquid foundation
Pacifica alight multi mineral BB cream
100% pure fruit pigmented powder foundation
Milk makeup blur liquid matte foundation
Charlotte Tilbury magic foundation
The foundation is literally a 'miracle in a bottle'. You'd be amazed at the range of skin tones, types and ages it covers to ensure your skin is left with a 'flawless, perfect-looking finish'.
It has many awesome features you would want a dream foundation to have such as the full coverage it gives whilst also somehow being lightweight, like you have nothing on, basically a second skin.
Other features include a long-lasting formula that 'stays for up to 13 hrs' and many more waiting to be discovered.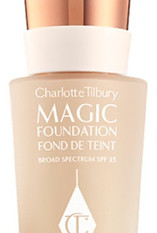 Let's talk the benefits it provides, being one of the best liquid foundation for aging skin.
This little magic bottle has been known to 'smoothen the appearance of lines and wrinkles' which in turn leaves you with a 'younger looking complexion'. Who wouldn't want that!
It's lightweight, meaning it won't settle into the wrinkles or lines and contains beneficial ingredients for the skin such as the mushroom extract, vitamin c and hyaluronic acid which gives a plumper looking complexion.
You can check out the full review here!
Saphho essential liquid foundation
The formula is developed to provide a light to medium coverage that's buildable, lasts all day and infused with 'powerful phytonutrients' which are plant-derived nutrients, so your left with a skin that feels natural, fresh and flawless.
It's formulated to feel light as a feather and allow your skin to breathe instead of suffocate.
The antioxidants and '70% certified organic ingredients' make it a great product to apply on mature skin as they help the skin repair itself, especially if it's missing any important nutrients and some stimulate collagen production which is useful for a youthful appearance.
The consistency is similar to a moisturizer, making it suitable for older skins as it's less likely to settle in the lines.
Pacifica alight multi mineral BB cream
Are you looking for a BB cream that gives a sheer moisturizing tint with extra benefits?
Then you might be interested in this multi mineral cream by Pacifica as it not only moisturises but 'hydrates, primes, illuminates and perfects' leaving a sheer bare skin.
Oh and don't worry about the skin shade as 'specialised mineral pigments' instantly adjust to your shade, meaning 'one colour works for many'.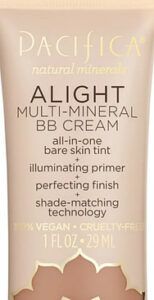 The Pacifica BB cream is also one of the best foundation for mature skin, thanks to its features like the anti-aging, mineral and paraben free formula!
It's a BB cream which means you receive a light or sheer coverage that's less likely to weigh down your skin and cause wrinkles and fine lines to become visible.
The application 'diminishes the appearance of pores, fine lines, and uneven tone' when used in the right amount.
Hyaluronic acid is also an ingredient in this product, which will help mature skin stay hydrated. pretty useful as older skins are prone to dryness.
Why not check out the full review of the Pacifica alight bb cream here!
100% pure fruit pigmented powder foundation
If you have a slightly oily skin as well as mature skin then 100% pure's powder may be to your liking as it's lightweight which definitely means it won't cause creases and minimizes pores, which I know can be a bigger problem for the mature skin who also have oily skin.
The finish is matte with the ability to provide medium coverage and easily buildable to full.
The mature skin can make use of this powder as it's formulated with anti-ageing, mineral and fragrance free ingredients which can often irritate the delicate skin.
Milk makeup blur liquid matte
The matte foundation is formulated silicone free to help blur and smooth, 'without triggering' breakouts.
It has a featherweight texture yet surprisingly offers the coverage of a heavier foundation without the cakiness. Cool right?
Oh and the bottle is clever too as product is only dispensed when squeezed. So no wasting! It's also free from parabens, phthalates, sulfates and other nasties.
As you can tell by the name this milk foundation is great for blurring any pores and fine lines so obviously ideal for mature skin.
The hyaluronic acid helps plump the skin which mature skin are in need of.
If you want more info on the milk blur matte foundation then tap here!
what do you think of these foundations and do you have a particular favourite product let me know in the comment section below!
Or tap here to view skin care products for aging skin.
Have a great day or night ?
Please follow and like us: