It's not called magic foundation for no reason. The Charlotte Tilbury magic foundation provides many benefits in one, with one of them being an anti-ageing cream. If you are wanting a magical transformation for whatever the age, tone or type then this bottle is what you are missing.
This bottle is all about creating a younger looking and smooth complexion which also lasts long because who'd want a foundation that melts off your face after 10 minutes. Right?
If you really want to know if any of this is true then do read on.
Disclosure: This post may contain affiliate links which means that I may earn commission if click and make a purchase but no additional cost to you.
Was it long-lasting?
Well I decided to use this Charlotte Tilbury foundation for an evening look, which ment that I only wore it for a couple of hours, about 5 hours, before I had to wash it off.
But I can say that it stayed on quite strong and my skin still looked smooth towards the later hours, therefore I'm sure it could have easily lasted a good couple of more hours.
If you are thinking how would I know if the foundation would last a few more hours, well it's because I've tried a few foundations in the past where I had to keep reapplying after about 2 hours as they'd go patchy whereas I didn't had to touch this one even towards the end.
If you want to really see what's it about then I suggest you pick your magic foundation.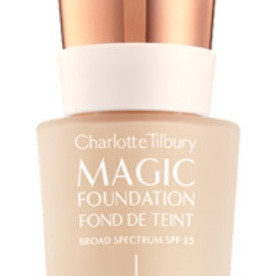 Will my wrinkles smoothen out?
To be honest, I don't have wrinkles YET! But I did get to try this product on someone who has wrinkles, in other words someone older. And do you want to know what she thought?
As soon as I finished applying it on her I handed her the mirror (so it could be a little surprise) and she was surprised that her wrinkles weren't there anymore, mainly because she wasn't wearing her glasses so that's when I had to take over and have a look.
And I can tell you that most wrinkles had smoothed out apart from a small deep wrinkle by her nose which was just about visible from close up. Overall for covering wrinkles, I think it does a pretty well job, especially concealing the smaller ones.
Best for oily, dry or combination?
I'm guessing you lovely peeps would like to know if it's really for all skin types meaning dry, oily or combination, as it says.
I can tell you that I found this foundation great for dry skin due to its moisturising ingredient. For combination skin it also did well especially on my t-zone.
As for oily skin, I can't speak for you peeps but after a bit of research I found out that those who have oily skin, can benefit from it's great pore coverage and after my experience with my oily t-zone, it definitely keeps the oil controlled for a while!
Any cons?
Obviously it's a review so I have to tell the truth. Okay here goes. I think because this foundation provides a heavy or full coverage, I found it a little hard to blend especially if I didn't do it right after applying but that could be because I'm slow at buffing.
But don't let this stop you from buying it. If you think this is for you or you want to test it out then go ahead!
Overall
Overall, I think that this foundation is great for most skin types and ages as it says. It's pretty great for all the benefits it provides especially as it's vegan friendly and the broad colour range!
The bottle coming with a pump is a good idea as it will for sure stop accidental spillages.
Tap here if you'd like to purchase the Charlotte Tilbury magic foundation!
Hope you enjoyed reading this review and if you have any suggestions or questions then please let me know in the comment section below or wherever it is.
If you really don't want to go yet then tap here for a review on the Charlotte Tilbury brow lift!
Have a good day or night!
Please follow and like us: