The reason why I decided to get the pacifica multi mineral BB cream was due to it's sheer coverage. I'm a fan of light coverage creams that can also be used to cover minor imperfections or at least smooth out the skin. And this pacifica BB cream seemed like it does exactly that!
Read on to find out how it actually performed.
Pacifica beauty alight multi mineral BB cream (wow that's long) is 'a sheer moisturizing tint' that comes along with a bunch of benefits.
They call it a 'multi tasking miracle' which 'hydrates, primes, illuminates, and perfects' leaving you with a 'sheer bare finish'. Pacifica mentions this BB cream will help 'diminish the appearance of pores, fine lines and uneven tone'.
This cream is 'great worn alone' if you are after a natural look.
Pacifica is a 100% Vegan and cruelty free brand! That don't just only sell foundations but many other makeup items such as eyeshadows, eyeliners etc.
Coverage
As you know the pacifica alight multi mineral cream is a BB cream. This means that it's ment to serve as a moisturizer and a foundation at the same time.
I can say it certainly does act as a moisturizer more than a foundation. It gives a really light coverage. By light I mean it can barely hide my pores or redness.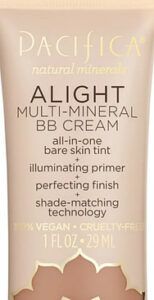 I don't think it has the potential to completely cover up more visible imperfections such as freckles or uneven tones.
I was a little disappointed at this as everything else about this BB cream was amazing such as the light weight feel. It's best for using as a base or smoothing out the skin thanks to its texture but don't expect much coverage.
I'd personally use it underneath other products or just for a natural no make up look. It can cover light imperfections but you need a little more of it.
Basically I think this cream is great for anyone after a nice radiant look to the face with a little touch of shimmer. You definitely would appreciate this product.
Packaging
I'm going through now what I liked about this product including the packaging because I'm sure that's important to many, I mean it's partly what attracts me to sometimes pick a product.
The design is nice and simple yet manages to make the product appear appealing to the eye. It comes in an almost 2d slim shaped packaging, which is great especially for traveling and won't take up much space. It has florals all around it, that is in metallic. Quite pretty if you ask me!
Their outer packaging are recyclable too!
Inside goodness
By this I mean the ingredients, it's formulated with some amazing ingredients that surely will help the skin to glow and stay healthy.
Coconut water has great benefits such as helping calm acne and has been known to have anti-ageing properties whereas floral stem cells helps the skin look more youthful and hyaluronic acid keeps your precious skin hydrated. That's cool!
Because of all the anti aging benefits I think mature skinned peeps looking for something light would love this.
It also happens to be formulated without talc, parabens, phthalates or mineral oil, just like many of their other products.
Lastage and blendability
The product lasts easily five hours without melting and going greasy on oily areas. It feels lightweight as they mention throughout from application to removal.
It's obviously easy to blend judging by the thin texture which starts off a little creamy but gets thinner as soon as it hits warm skin.
The shade selection is very limited but that is down to the 'Specialized mineral pigments' which adjusts to your skin so one colour can work for many. They do match pretty well, I think that's clever.
Conclusion
Overall I can say it hydrates, primes and illuminates whilst also having the ability to cover light imperfections. I don't think its suitable for those who want a heavier coverage, only as a really light coverage or if you want your skin to have a little treatment.
Do you have a current favourite BB cream? Let me know in the comments down below!
Why not check out more awesome vegan BB creams by tapping here 
Have a great day!?
Please follow and like us: