My first impressions of when I heard the milk foundation, I thought it was a dairy company that manufactures milk or similar products. But then I researched a little and found out it was a makeup brand! Which then led me to pick the milk blur liquid matte foundation!
According to the brand "Milk Makeup's Blur Liquid Matte Foundation is a game-changer when it to blurring pores and fine lines".
It's also said to be lightweight, compared to a feather, with a serum like feel, whilst being silicone free to help "smooth, blur and refine without triggering breakouts".
Milk believe this product can deliver "coverage of heavier foundations".
Disclosure: This post may contain affiliate links which means that I may earn commission if click and make a purchase but no additional cost to you.
This foundation is supposed to provide you with a matte finish whilst also "cut shine and keep excess oil under control".
Milk foundation is luckily 100% vegan and cruelty-free as well as being free from parabens!
The 'lightweight' phrase definitely was part of why I went ahead with the purchase.
I don't often wear foundation and when I do it's usually something really light like a tinted moisturizer. The product has got to feel like I'm not wearing anything
Right let me tell you how this foundation went for me.

Application
I'll start with application as its the first thing you notice when in the process of testing or applying.
So beforehand I prepped my skin and gently rubbed in a moisturizer. I then decided to use a beauty blender to apply the foundation.
With the beauty blender I found the application to be quite easy although at first I did feel like I needed to work a little harder but once over that it was effortless.
Of course I wanted to experiment with a brush too, so then I did.
With the brush it was pretty straightforward too, but I prefer the beauty blender as I am able to reach difficult areas easily with the smaller side whereas with the brush I need two, a smaller one to fill around the nose and other parts and a large one for blending.
Coverage
At first the formula looked a little too watery, making me think how is this going to work out but once I began to apply it, luckily my thoughts were changed.
So when using the beauty blender I was able to gain a medium coverage, from the very first layer which is great for me but if you're after a full coverage, adding another layer or two would definitely satisfy you.
If you use a brush then you can probably achieve a full coverage much quicker as the beauty blender tends to soak the product up more.
As for what it covers, I think it does what it says, it blurs pores and certainly leaves a smooth finish.
Shade
The shade range is pretty cool but I feel like it could expand more to include a few more shades and undertones.
The shade warm medium is perfect for me but sometimes I have to mix a different shade up to match up.
I feel like finding the correct shade isn't that hard, which shows the shade range is decent.
Lastage
Milk didn't specifically mention what's the lasting power of this product so I wasn't sure what to expect.
I decided to apply it at around 10am and it stayed put all the way to 4/5 pm ish, which I think is quite impressive.
The only weakness I saw at that time was, it started to melt a little in the oily t-zone areas, towards the end even though its oil free.
Which is fair enough as it was a warm day. Just to add I have combination skin.
I can say it does "keeps excess oil under control" to some extent.
Just to add, other great aspects of this product is it didn't really feel heavy as I would expect from a full coverage, it also was easy to blend with a beauty blender, the coverage was just right for me, oh and the tube is easy to fit and cleanable in case you end up messing it up like me.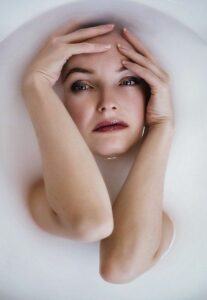 The side which I didn't really like is if you don't shake the tube before then your going to end up pouring out a formula which is half separated.
Although the foundation states its matte I didn't really find it to be. It seemed more dewy but if you don't mind that then that's nothing to worry about.
The question is would I buy this again? Of course, I really liked the coverage it gave whilst also being lightweight and lasting long enough.
if you would like to purchase your own milk foundation then click here!
Do you own any milk products, I'd love to know about it, drop them down below!
If you have any questions or suggestions then do let me know in the comment section below!
Looking for more awesome vegan foundations, then tap here!
Have a great day!
Please follow and like us:
Review Date
Milk blur liquid matte foundation
⭐⭐⭐⭐





Product Name
Milk blur liquid matte foundation