To be honest I'm not a fan of matte finishes, don't ask me why I grabbed the barry m lip paint, but this one is an exception because, one it's a semi matte and two, it's going to sound weird, the name 'lip paint' seemed like this lipstick would be a unique hybrid! Or I think I'm just being a bit too visionary!
Anyways we're here for the truth and truth only! So how was it? Well you'd have to kindly continue reading to find out!
Description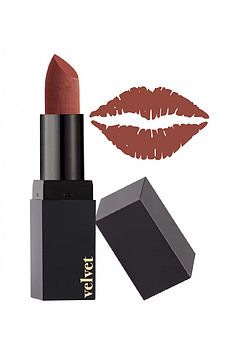 The barry m velvet lip paint is a semi matte, 'pigment rich' finish that aims to deliver an even, intense colour with lasting and anti-drying results. The formula is said to be lightweight which in the world of matte finishes can be a little tricky to find due to their thick consistency, but since it is semi matte, I guess it's possible.
Application according to the brand should be easy as it 'glides on effortlessly'. This lip paint can be worn on bare lips or paired with the brands very own lip liners!
The velvet lipstick is cruelty-free as well as vegan and infused with jojoba seed oil which is known to leave lips 'supple and smooth'.
Shades
The availability of this lipsticks shade choice is decent, not too big nor small with around 6 shades, featuring warm, cool and a neutral tone. The shades are based on a neutral spectrum nothing too dramatic.
You can expect to find a fee browns, warm brick-red, cool pinks and a rose. As I usually go for light shades, I decided to pick 'bittersweet', a light pink which is probably one of their lightest colours along with 'angel kiss'.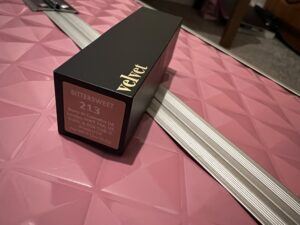 Application
Now the brand do mention that this lip colour should glide on effortlessly, so does it?
Well I did have a little issue in getting it to apply smoothly, you see I have chapped and dry lips so applying isn't always a pretty straightforward experience, it was a bumpy ride.
I usually moisturise beforehand but this time I decided not to, just to see how the texture is, the 'lip paint' name probably made me more curious.
So with application not being to my expectations, I resorted to using a lip balm and then gave it a try. It was much better, going along easier. The consistency isn't too thick nor watery, basically it's somewhere in between them.
The pigment is not bad either, it does deliver some colour like the brand state. I applied only one coat and it was visible enough, I can definitely see the semi matte features, not as rich or thick as a matte but just right.
Does that mean it's lightweight?
It certainly wasn't heavy, I'd say it has a comfortable feel.
Lastage
Right, now moving onto it's power!
Barry m don't mention any clues as to how long this lip paint may last apart from them stating 'an intense pigment with lasting results', so I wasn't sure what to expect.
After giving, it a run, it seemed do cling on well, averaging around 5 hours. I mean it might seem less but considering it's price, I would say it does well. Having said this, I did have to do a touch up in between as the colour had appeared to fade a little after eating.
To buy or not to buy?
So overall I give this lip product a 7/10! It's not bad especially when you put into perspective it's price. It applies well, just a little issue if you don't moisturise beforehand, and has a decent shade selection.
I think anyone who doesn't have an overly dry lip and isn't going for a long day out or if you are but don't mind retouching in between, then you would certainly benefit from this lipstick. If you prefer neutrals and don't want something with a thick texture yet need some pigment then this can be the one.
That's it for now peeps!
But if you don't want to leave then I suggest you tap here to check out more awesome vegan lipsticks!
Have a great day!
Please follow and like us: