Did you know the average makeup wipe can take over 50 years to decompose! That's a long time! They can be irritating for sensitive skin individuals as well due to the chemicals used to preserve them. The solution: Biodegradable makeup wipes!
Check out these environmentally friendly wipes that aren't just good for the planet but you and the plants too!
The cheeky panda biodegradable facial cleansing wipes
'Say bye-bye to panda eyes'
These cheeky panda wipes are both renewable, sustainable and contain absolutely no nasties just 'pure, plant-based natural ingredients' according to the brand! They're also made using bamboo 99% purified water, vegan and cruelty-free! These wipes are soft on skin and have been dermatologically tested.
Once you've used them, all you have got to do is throw them into a compost bin and the rest of the work is left to nature, biodegrading over time!
You can choose from either a coconut or rose scent or if you prefer fragrance free.
Simple kind to skin biodegradable cleansing wipes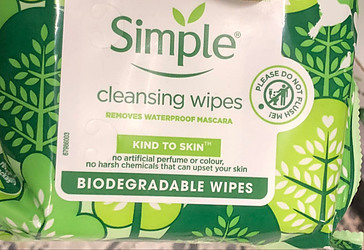 The simple cleansing wipes are now available in a biodegradable version, yay! These wipes come in a pack containing 20 skin loving wipes. According to the brand they are vegan and made with '100% plant based fiber' that biodegrade in only 42 days in home and industrial conditions. Plus the packaging is recyclable too!
As for the work these wipes do, they help cleanse the skin gently from impurities, makeup as well as unclog pores. They're tough on makeup yet kind to the planet. Each wipe features skin loving ingredients like vitamin B5 and E and don't dry out or irritate the skin neither leave it greasy!
You can tap here for a more in depth review of the simple cleansing makeup wipes!
The body shop clean conscience reusable makeup remover pads
The best form of environmentally friendly wipes are the ones that can be reused numerous times as you're not creating unnecessary waste. The body shop makeup pads are made with bamboo and organic cotton that are super gentle and can be rewashed, being able to replace cotton pads for up to '7 days of guilt free cleansing'.
These pads come along with their 100% organic cotton laundry bag, so all you've got to do is pop them in the bag and chuck them in the laundry to wash, it's that simple! They also have cute days of the week tags so you know which one's you are using!
Nudestix NUDESKIN Vegan Bamboo Cleansing Cloths
This wipe is a 3 in 1 cleansing wipe; makeup remover, skin cleanser as well as a skin softener! The nudestix cleansing cloth is bamboo derived, a common earth conscious material, with an eco friendly outer packaging too. Both good for the environment.
These cloths contain skin caring benefits that include lemongrass to cleanse the skin whilst coconut oil dissolves even the most stubborn makeup yet softening the skin.
Chamomile, aloe and cucumber extract all work together to pamper and soothe the skin, perfect for the for skin, perfect for the planet. Oh did I mention they reduce 'reduce blemishes and pigmentation'.
Yes to cucumbers calming facial wipes
The calming facial wipes are suitable for all skin types including sensitive skin and offer the benefit of a calm and soothing skin. These pre moistened wipes gently remove dirt, sweat and makeup without requiring you to rinse to feel renewed and cleaned.
Formulated with 96% natural ingredients with cucumbers helping to calm skin, reducing appearance of redness, the green tea is known for it's soothing properties and aloe improving the skins hydration.
The plant based wipes means they are compostable and can be placed alongside your banana and carrot peels, so do yourself, your plants and the planet a favour and drop them in the compost bin.
That's it for now peeps!
Have a great day!
Please follow and like us: