I like makeup removing wipes, you can carry them anywhere and everywhere. Plus you don't require any other tools apart from the wipes and yourself. I have used simple cleansing facial wipes before, quite a long while ago but I forgot how the experience went so decided to give them another go. But this time I'm going to document it!
Do carry on reading my simple cleansing facial wipes review to find out how it performs!
So here are the pros and cons I collected whilst using the kin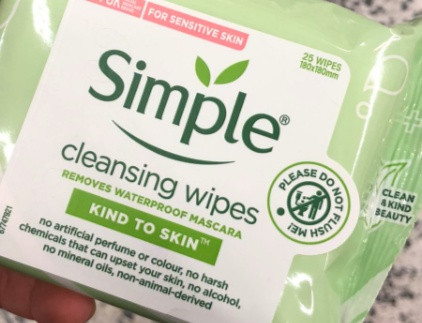 d to skin cleansing facial wipes. Are you ready?
Disclosure: This post may contain affiliate links which means that I may earn commission if click and make a purchase but no additional cost to you.
But first, Simple on their cleansing wipes:
With the simple cleansing facial wipes you can lift away makeup, any dirt and impurities as well as waterproof mascara and of course it can't go without hydrating that precious skin of yours.
These wipes are vegan and formulated without no colour, artificial perfume or harsh chemicals that would usually dry out and irritate your skin.
The wipes also don't leave residue so sensitive skin are going to love this.
And a quick overview:
Pros
Formulated without artificial perfume or harsh chemicals
Overall suitable for sensitive skin
Travel friendly
Recyclable and the option to purchase a biodegradable pack
Cons
May require a little force for tougher pigmentations
The wipes dries out quick
How well does it remove makeup?
Let's start with this and get it out the way, as I know that's what we are here to know mainly.
Simple state these wipes are unforgiving with makeup and that includes waterproof mascara
This is what simple state but I actually found the wipes to not be tough enough for waterproof mascara, I tried gently but it wouldn't successfully remove the product and I didn't want to put more force as my eyes will start to get irritated.
The usual makeup that isn't waterproof does wipe off with quite ease. Foundation is the most easiest to remove whereas eye makeup did require more than one wipes even if it weren't waterproof.
For the mascara I did need to do a few rubs which did lead to some redness, probably because I went a little too hard.
Texture
Simple talk about how their fibre have been shown to be softer than silk!
Although simple makeup do say that it's ment to be a silk touch, I didn't really feel the softness however it wasn't rough.
It felt like any ordinary wipe. So there is nothing really here to complain about.
Is it gentle?
With no residue, alcohol, colour, dyes, perfume and no harsh chemicals which often upset your skin, this should allow the product to be used without issues for those with sensitive skin.
Although generally these all features do make it suitable for sensitive skin, my forehead however went a little red and itchy whilst using it, I'm not sure if it's because I haven't used it in a while and it's a new product or either my skin is super super fussy.
Overall I would consider it gentle compared to other makeup removers despite the small reaction, as my skin after using these wipes, weren't left dry or overly red.
Update: My skin thankfully no longer reacts, so yep it passed the skin sensitivity test!
Packaging
The packaging is really lightweight and squeezable therefore making it travel friendly and easy to bring along. It's much better than carrying bulky bottles around!
The outer packaging is recyclable and you have the option of purchasing a biodegradable pack which consists of wipes that are environmentally friendly.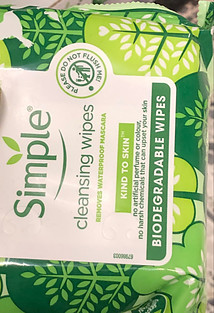 For the simple cleansing wipes to not dry out and keep the moisture retained in as well as clean, the packaging is sealed with a resealable sticker which you can shut back after pulling the wipe out.
I did have a bit of an issue with the resealable sticker in the way that its stickiness was lost after a few usages. So I was left with the top wipe dried out!
Overall I would give these simple wipes an 7/10. I liked how quick the normal makeup came off but the waterproof products needed extra power which isn't worth scrubbing due to my skin irritation.
I also rate the after skin touch it leaves which is a soft but not sticky feel. The texture wasn't too bad and I also would like it if the resealable sticker was a bit more stronger or replace it with a recyclable clip lid that would greatly reduce wastage too!
If you are looking for a affordable sensitive skin wipes that remove non waterproof products (and waterproof but with a little extra effort) then I suggest you give it a try. Plus they are now available in biodegradable form too, so if you want to help the environment they're a great choice!
If you would like to check out the simple cleansing wipe for yourself then tap here!
If you are a fan of makeup removing wipes then tap here for more awesome products!
Want to help the planet, these awesome biodegradable wipes do just that!
What type of makeup remover do you prefer to use and why?
Have a great day! ?
Please follow and like us: