When you have one problem which is removing makeup and then you're followed by another problem that is your delicate skin reacting to what was supposed to be a solution to the problem, it's pretty sad! So for that reason I'm going to answer what is the best makeup remover for sensitive skin in the form of a list.
And plus I have sensitive skin so I fully understand the struggles you peeps go through!
The best picks for delicate skins are ones which are free from harsh fragrances, chemicals and use as much natural ingredients as possible!
Signs which show you may have sensitive skin include redness, rash, itchiness, stinging and other equally irritating reactions.
I'm going to try to include everyone with a range of types of makeup removers such as wipes, oil and water.
So here goes!
Quick Overview
Simple kind to skin cleansing wipes
Glossier waterproof makeup remover
Skinfix barrier + Foaming oil cleanser
Josie Maran bear naked wipes
The body shop camomile sumptuous cleansing butter
Restorasoft waterproof makeup remover
PHB ethical beauty gentle cleanser
Simple kind to skin cleansing wipes
A bit about why it's great for sensitive skin:
"Doesn't dry out, irritate or leave residue. These vegan wipes are made with no colour, artificial perfume or harsh chemicals they don't dry out, irritate or leave residue, making them perfect for even sensitive skin."
These wipes don't have any artificial perfume or harsh chemicals which is usually what causes sensitive skin to react so without them hopefully no skin bullying goes on.
Oh and for those of you who want to help the planet, there is a biodegradable option available too!
The wipes have been tested dermatologically and ophthalmologically. And are Hypoallergenic, as well as non-comedogenic.
If you'd like to view the full review then click here.
Glossier Waterproof Makeup Remover
How is it suitable for sensitive skin:
"A gentle makeup remover that melts off and lifts away long-wearing and waterproof formulas, without rubbing or tugging the skin"
Although the glossier waterproof makeup remover is titled as a milky oil, it's a more of a combination of miceller water and weightless oil.
Which makes it good for sensitive skin as the way micellar water works is by dissolving makeup easily which don't require rubbing therefore no irritation to our gentle skin.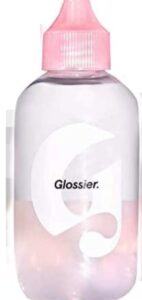 You can also expect to receive conditioning and soothing benefits!
This makeup remover has also been tested by a dermatologist and ophthalmologist as suitable for sensitive eyes.
Skinfix Barrier+ Foaming Oil Cleanser
Suitable for sensitive skin:
"TARGETS effective makeup removal, dehydration, & redness for normal to dry & sensitive skin"
As well as being free from fragrance, parabens, sulfates, formaldehyde, phthalates, silicones and many more junk!
The skin fix cleanser is a little different in the sense that it's texture is a foamy creamy type. And it has a 98-percent naturally-derived formula, now that for sure shouldn't annoy your skin.
This cleanser helps reduce the appearance of blotchiness, and visibly reduce redness.It's great for those of you who prefer oil cleansers but at the same time aren't big on oils.
Josie maran bear naked wipes
"Argan-infused cleansing wipes remove makeup and impurities from face and eyes leaving skin clean, nourished, and refreshed."
As well as being vegan and cruelty free, these wipes are environmentally friendly, paraben free,  phthalate free, synthetic fragrance free, sulfate free and much more.
You could also expect a bunch of skin softening and caring ingredients such as natural argon, aloe Vera and chamomile. Quite a few of their ingredients are labelled as naturally derived and organic too!
I mean if this doesn't make it suitable for sensitive skin I don't know what does!
Oh and I'd like to add a portion of the costs go to help polar bears, isn't that nice!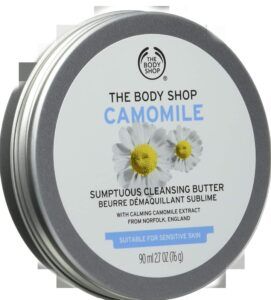 The body shop Camomile Sumptuous cleansing butter
"our Camomile Sumptuous Cleansing Butter can help melt away makeup and all traces of impurities.
A lover for sensitive skin and contact lens wearers".
This buttery cleansing product which is a little different than the usual texture but equally effective is infused with Camomile extract and other vegan ingredients that gently removes make-up and impurities even waterproof mascara within seconds whilst also leaving your skin refreshed and nourished.
Restorasoft waterproof makeup remover
The restorasoft makeup remover by face theory is a vegan and cruelty-free remover which also happens to be gentle! Their waterproof formula doesn't require any rubbing or irritation, instead gently rub the milky liquid onto the face with either your hands or a cotton pad and wipe away.
It's formulated with eco solvents which 'gently and effectively' remove even the most stubborn of pigments. This makeup remover also cares for your skin by hydrating it without drying it!
Phb ethical beauty gentle cleanser
'Gently removes all traces of makeup, toxins and impurities'
The PHB ethical beauty cleanser removes makeup, toxins as well as impurities leaving your skin refreshed and replenished. With organic ingredients like rosehip oil and avacado oil along with vitamin A, your skin is surely going to experience some great beneficial effects.
These ingredients are said to moisturize, soften, reduce inflammation even reduce wrinkles and fine lines! Now that's a cool plus. The fragrance free formula doesn't only make it suitable for sensitive skins but dry as well as eczema prone peeps too!
Check out primers for sensitive skin or foundations to match!
You can view makeup removers for oily skin here, peeps!
What type of makeup remover do you use, I'd love to hear of some suggestions!
Have a great day!?
Please follow and like us: