You know how sometimes we don't have time to remove all the grub from the day or when we can't be asked to do the usual cleansing routine, be grateful we can always whip out a wipe! Check out these vegan makeup remover wipes which will surely make removing makeup not only easily but also leave your beautiful skin even softer all while being worry free that you haven't hurt a fly!
So shall we begin? I think so!
Elf makeup remover cleansing cloths
Elf is a super affordable brand that offers many both vegan and cruelty-free products.
The makeup remover cleansing cloth pack includes 20 free from phthalates and sulfate pre-moistened wipes.
Every wipe is infused with vitamin E and aloe so that each wipe leaves your skin well nourished and hydrated with a refreshed and smooth feeling complexion.
They are travel friendly too!
Pacifica purify coconut water cleansing wipes
Pacifica mention on their website their favourite ingredients from this coconut water infused wipes is papaya extract, calendula, coconut water and aloe Vera.
As well as the infusion of these natural ingredients in each wipe, they also contain natural fibers so you can go to bed with clean skin with no regrets.
I also really like the resealable clip for closure which stops the wipes from becoming dry.
Apparently Pacifica were the first to use 'superpower coconut water' in their wipes as well as other products of theirs.
The pacifica cleansing wipe is also a great moisturising option!
Josie maran bear naked wipes
This particular wipes by Josie Maran contains quite a few organic and naturally derived ingredients as well as being fragrance free which makes it suitable for sensitive eyes.
On top of that the argan, aloe vera, chamomile extract, cucumber, grapefruit and marshmallow extract definitely help soothe delicate areas on the face whilst removing makeup and impurities. This pack comes with 30 wipes.
Acure brightening coconut cleansing towelettes
Suitable for all skin types these coconut towelettes (yes it does seem like everyone's obsessed with coconut, but they really do smell good, maybe that's why) help to remove 'makeup, dirt, sweat' and even environmental toxins gently! Not just the face but body too!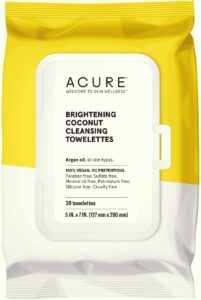 They are perfect for travel and anywhere where you can't be bothered to splash water and scrub! Acure say these wipes are ' 100% vegan. 0% pretentious'!
30 wipes are included in each pack.
Yes to cucumbers hypoallergenic facial wipes
The yes to cucumbers hypoallergenic facial wipes were the winners of allure best of beauty: natural wonders in 2011.
But not for no reason, they are 98% natural, packed with green super foods and biodegradable!
Their main job is to help 'exfoliate, detoxify, and rejuvenate' all at the same time in one wipe.
As they are hypoallergenic, they are suitable for sensitive skin peeps too and the oil free formula make it great for oily skin.
'Go from zero to clean in seconds!' whether you are in a rush or too sleepy, these 30 pre moistened are a great option for on the go!
The facial wipes are situated in a pack with resealable clip to preserve the moisture as much as possible.
The cheeky panda biodegradable facial wipes
These unscented wipes easily remove all the dirt and grub built from the days makeup and impurities. Said to be 'Kind and gentle' on your skin, the cheeky panda wipes are 100% bamboo derived, making them not only a great environmentally friendly alternative but also naturally hypo-allergenic so a great option for sensitive skin peeps!
They are vegan and cruelty free, free from alcohol, artificial fragrance, chlorine, bleach as well as other junk. According to the brand the cheeky panda wipes bless it's owners with a refreshed and cleansed feel.
So if you enjoyed this post be sure to check out makeup removers for sensitive eyes by tapping here!
Or if you want to learn what makes a good sensitive skin makeup remover than click here!
What makeup remover do you currently use? Let me know in the comment section below!
Have a great day! ?
Please follow and like us: