The reason why I decided to go for the elf poreless face primer was mainly due to the title 'poreless'. I have combination skin which means I have an oily side as well as a dry.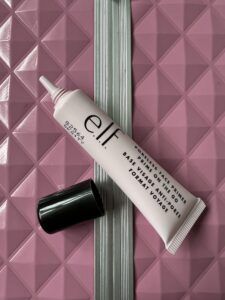 The oily area tends to be the most difficult to deal between the two at times. It starts to shine excessively especially when it's quite humid or either pores become visible.
So the poreless phrase definitely got me there! But the real question is how does it perform? Read on to find out!
Disclosure: This post may contain affiliate links which means that I may earn commission if click and make a purchase but no additional cost to you.
Quick overview:
Pros
Great dispensable bottle
Good formula
Does leave a smooth finish
Cons
Made my skin a little oily
Description
Elf state on their website about this primer that it will 'transform your face into a flawless, smooth canvas' making it ideal for a long-lasting makeup look.
It's also apparently got extra benefits thanks to the tea tree and vitamin A and E formula.
Elf recommend using the poreless face primer under your foundation to create a makeup base for achieving that glowing, smooth skin!
Packaging
The packaging of the elf poreless face primer or shall I say all the primers are beautiful. The products are placed in a clear, smooth glass bottle.
It's not see through, rather blurry so you can see what the colour of the primer is.
The glass bottle closes a pump dispenser with a plastic cap which is transparent. The bottle isn't heavy but you can tell your holding something in your hand which is great.
The pump dispenses the right amount of primer, not too less or too much and is easily carriable due to the small size. I needed 3-4 pumps for my face.
Consistency
The consistency is a little on the watery side. I gave the bottle a good shake just in case it was because of the product not being mixed but it still remained runny. It could possibly be due to the condition I've kept it in which is quite humid.
I mean there is nothing wrong with it being like this, it makes applying easier and doesn't feel thick or tight on the skin.
The only problem with watery consistency is if you add more than the amount needed it'll just run down your hands or drip but then again I'm sure you wouldn't use that much so we can easily ignore that.
Update: I'm not sure if it is an improved version but this travel sized poreless face primer has a much better consistency! It is on the thicker side but quite light.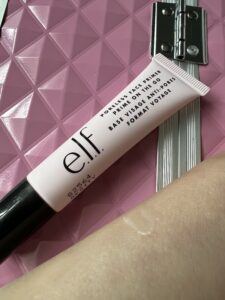 Performance
With this primer being called poreless, I was expecting not only my oily side but the whole of my combination skin to be left with a smooth finish as elf state!
That includes no excess oil leaking into my foundation as well as visible pores. So how did it do?
Overall performance wise I'd rate it a 6/10, in the middle, not to bad but not good either.
What I mean by no good is that I didn't receive the results I was expecting. My skin still seemed to oil up on my forehead however I can say it did leave my complexion all smooth and bright for most the time which is the good news!
I don't have large pores so maybe that's why I hadn't noticed a difference but I'm curious as to how it works out for anyone with large pores, so if you have visible pores let me know in the comment section about your experiences!
Have you tried elf before? What's your favourite product from this brand? Drop the suggestions down below!
You can check out the elf poreless face primer here!
And if you don't want to leave yet then tap here to check out primers made for combination skin!
Have a great day!?
Please follow and like us: