I didn't use to take primers seriously in my makeup routines. I thought they were one of those unnecessary extras. But this all changed, when one day I decided to give them a try due to my curiosity yelling to be let out. And you know what I'm glad I listened! Though at first none of the products seemed to do any better, unbeknown to me that different skin types require different products. But this led me to question what is the best primer for combination skin?
And I'm pleased I asked this question as now I can enjoy long-lasting makeup that's actually catered towards my skin type.
Trust me primers do work and are worth it! Of course that's if you choose the correct one suited to your skin's individual needs.
So if any of you peeps are also stuck or struggling to find some examples I've listed a few just to get you started! Don't worry they are all vegan!
Here we go!
Quick Overview
Bare minerals combo control
Milk makeup blur stick
Milk makeup hydro grip primer
Cover fx mattifying primer + acne treatment
Elf matte putty primer
Bare minerals combo control
This particular primer by bare minerals was specially designed for us, combination skin peeps, as you can tell by the name 'combo control'.
It also promises to leave your skin looking hydrated and healthy whilst keeping your makeup smooth and long-lasting.
This primer has quite a different texture, it has a milky feel but once on your skin, it will dry to a powder like soft finish.
The African tree bark extract that is formulated doesn't only absorb excess oils but also helps reduce the appearance of pores as well as blur imperfections of the skin.
How is it good for combination skin?
This primer does two things at once, it helps maintain the skin's moisture and absorb the excess oil in the t-zone area, sounds like a great primer for combination skin!
Which is exactly what we need for a skin that has dry areas as well as oily. We need something for both sides not just one! Right?
If you would like a full review then click here!
Milk makeup blur stick
This non-comedogenic and silicone free primer by milk makeup comes in a cutely packed stick form, ready to not only prime but 'banish oil and blur flaws'.
It glides on to deliver a 'translucent, matte, soft focus finish effect' blurring fine lines as well as other imperfections.
Just make sure to warm up the product with the hands to avoid tugging the skin. This primer can be used other than priming, it can be worn alone to help get rid of oil, or throughout the day as a touch up in the t-zone areas.
How does it help combination skin?
It's oil free formula ensures you don't get excess oil build up in the already oil prone t-zone area or clogged pores, allowing the skin to breathe freely!
Milk makeup hydro grip primer
Another primer from milk makeup but this time in the form of liquid, the hydro grip primer is one of the brands award-winning product.
But not for no reason, oh no, this primer is suitable for a range of skin tones and types. It's free from many nasties such as parabens, talc, silicone and fragrance free. Definitely great for sensitive skin too!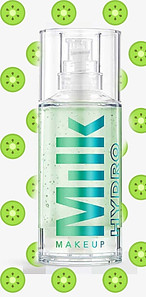 The 'shot of blue agave extract' forms a transparent layer which helps the makeup stay gripped on all day whereas the 'aloe vera water, hyaluronic acid, sweet cherry as well as vitamin b3 and b5' provide a healthy looking base and 'glassy glow'.
Suitable for all skin types!
The plant derived seed extract ensures your skin is left hydrated in all the places that need it whereas the oil free formula means you don't get an extra shiny face.
Cover fx mattifying primer + acne treatment
Suitable for all skin types including combination, oily and acne prone, this primer as you can tell by the name has extra benefits. It treats acne and primes at the same time! How cool!
The cover fx mattifying primer is a gel textured weightless formula made to 'treat blemishes and minimize the appearance of pores'.
Ingredients such as sugar maple, bilberry, lemon and orange fruit extract help ensure your skin is left feeling 'fresher and smoother' by gently exfoliating and supporting cell renewal.
The '1% salicylic acid' is there to prevent and heal blemishes.
Why is suitable for combination skin?
The Ancient African tree bark extract helps to minimize the appearance of pores, which we all know is a problem in the oily areas, it also controls shine. Solution to our problem!
Elf matte putty primer
The elf matte putty primer is one of the brands best-selling primer made available in a matte finish.
This affordable product aims to perfect the skin with ingredients like the kaolin and white charcoal. They are known to remove dead skin cells and bacteria which otherwise would have caused breakouts and clogged pores.
It's velvety texture allows for effortless application as it glides along the skin, leaving a smooth pore less effect for an all day lasting makeup look.
Suitable for?
Elf state this product is suitable for anyone with skin that leans towards the oily side as it has the ability to absorb excess oil or for a no filter and shine free finish.
For a full review on the elf putty primer tap here!
Do you believe in primers? Let me know of your opinions in the comment section below!
If you are looking for foundations for combination skin then tap here!
Have a great day!?
Please follow and like us: