Looking for a bunch of best vegan lipsticks? Well my friends you're at the right place!
The demand for vegan products is rising, WAHAY!, so this means that the amount of vegan items on offering is also increasing!
This is great news, you can now enjoy colouring your lips without worrying what you may have hurt.
So let's dive straight into some of those awesome goods!
E.L.F velvet matte lipstick
First up elf, available in 5 shades, this lipstick is made to soothe the lips, restore and condition with its healthy argon oil, rose and vitamin E infused ingredients. Great if you want to add a little shine and colour to your pout along with the benefits.
You can purchase colours such as burgundy, red, brown and a light and dark shade of berry.
Inika organic vegan lipstick
Cruelty free, vegan and 78% organic too, this lipstick by inika is available in matte shades as well as a little shimmer. The creamy formula makes application easy and feels as lush as it looks.
There are currently 12 shades available consisting of peach, pinks, reds and a purple which are all created using jojoba seed oils and avocado as well as Shea butter too for soft lips.
Inika state this product 'nourishes and hydrates without compromising on colour or performance.' all whilst being made to last.
Click here for a detailed review on the inika lipstick!
PHB 100% pure organic lipstick
PHB is a 100% cruelty-free, vegan brand and eco friendly, so you don't need to worry when picking beauty products from them, just as with some of these brands.
But we are here for their lipstick, so this particular lipstick is infused with jojoba oil and organic Shea butter to help keep your beautiful lips moisturized and protected.
The wild rose oil, which is organic and has vitamin E leaves your lips with a revived soft appearance, so you can say it has anti aging properties. There are 14 different shades available.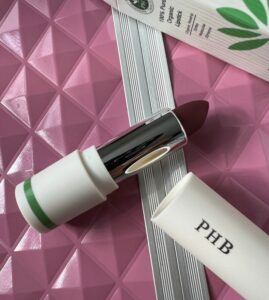 Apricot, cranberry, cocoa, peach, the names certainly do make me hungry! Yum!
Lush refillable lipsticks
This definitely environmental friendly as well as vegan and cruelty-free lipstick, come in well over 20 shades, WOW! And what's more is they come in refillable format so that way you aren't wasting any plastic, just clean and refill!
They are formulated using natural ingredients such as broccoli seed oils and orange peel wax to moisturize, candelilla wax to protect as well as a bunch more.
With a this goodness, of course your lips will be left hydrated and conditioned!
Expect to find something for everyone with finishes from satins and demi-mattes to sheers! There is a massive range of shade selections including classic reds to bolds and nudes.
Pacifica colour quench lip tint
As the name suggests this is great for lips that are thirsty and in need of instant moisturizing with a natural look. I think you'd also like to know Coconut oil, cocoa butter, avocado and vitamin E are all part of this nourishing healthy balm.
This sheer lip colour can be purchased in five yummy named shades.
Not to forget the tube is recyclable!
Tap here for a full review on the pacifica lip tint! 
Too faced peach kiss
This peach kiss lipstick stored in a beautiful gold packaging is great for those who are in search of a matte lipstick with high pigmentation that is long wearing, around 8 hours they state!

The peach and sweet fig milk-infused formula is a nice addition to a lipstick.
The around 20 shaded lipstick not only nourishes or hydrates but moisturizes and conditions! You get to choose from shades that are light and deep, so every occasion is definitely covered!
If you'd like to view the full review then click here!
Maybelline vinyl ink lipstick
This lipstick is apparently a 'no budge vinyl colour'. It's transfer and smudge resistant for upto 16hr! Now that does seem strong! A great option for a day or evening out.
The Maybelline vinyl ink is available in 10 bold shades including peach, pink and red.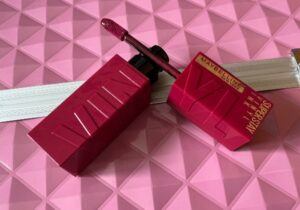 The vinyl lipstick provides a shine finish along with vitamin E and aloe Vera to ensure a comfortable feel.
Lily Lolo vegan lipstick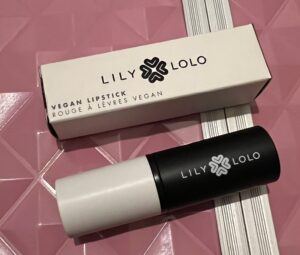 Available in 10 vegan shades the lily lolo lipstick was created for 'women who crave colour without compromise'. The shades range from natural nudes great for daily wear to 'vibrant' reds as well as pinks perfect for anyone looking for something bold!
Their lipsticks consists of a combination of minerals and plant oils which are said to be nourishing as well as helping to keep the formula hydrated! So if you're on the search for 'intense colour, rich pigments and seriously-good staying power' then I suggest you check lily lolo's range!
For a full review on how this vegan lipstick performs then tap here!
Delilah colour intense
This intensely creamy lipstick by delilah doesn't only appear luxuriously good, it feels just as awesome if not more! Their formula is said to be soft and creamy with a beautiful 'silky matte' effect. It's pigment saturation helps to 'deliver colour instantly', so the need of constant application is reduced.
The spherical polymers help provide the lipstick with a velvety touch in support of an easy glide on application. The addition of vitamin E doesn't only provide nourishment but protection for lips too!
What's your favourite lipstick and why? Comment down below.
Or if you want to view more awesome products then tap here for lipsticks made with dry lips in mind!
Not a fan of the heavy stuff? Why not take a look at vegan lip balms!
Have a great day! ?
Please follow and like us: