I know how eyes are the most sensitive feature on the face so for that reason I've decided to round up some of the best sensitive eye makeup remover, in my opinion!

I have really sensitive eyes so they get quite irritated quickly, applying makeup can be hard when your eyes start to run so imagine wiping and rubbing, trying to get rid of all the dirt!
So because of that I've listed below a bunch of awesome products created with sensitivity in mind, so go on what are you waiting for!?
Do continue reading to find some new products!
Mind you I'm yet to try a couple of them. Keep an eye out for those reviews though!
Quick overview
Drunk elephant slaai makeup melting butter
Garnier skin naturals 2 in 1 eye makeup remover
Simple kind to skin eye makeup remover
The body shop camomile gentle eye makeup remover
Glossier milky oil waterproof makeup remover
Drunk elephant slaai make-up melting butter
The drunk elephant slaai make-up melting butter is a little different to your usual skin cleansers, in the sense that you use it on a dry face to remove excess oil, grime and makeup, even waterproof formulas!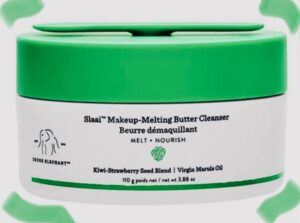 The dry formula transforms into a milky texture once it's hit with water, which leaves behind a 'dewy glow'.
The butter itself is formulated using 'anti oxidant rich fruit extract and oil' which all ensures your skin is left cleansed and moisturized without being irritated.
The melting butter is free from silicones and fragrances. It's therefore said to be suitable for sensitive eyes.
Garnier skin naturals 2 in 1 eye makeup remover
This eye makeup remover by Garnier is an interesting product to have. It is a 2 in 1, so an eye makeup remover and an eyelash protector! Never heard of that one before.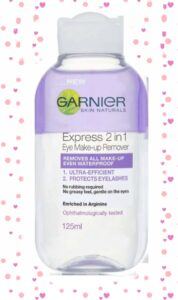 Garnier state this is a 'simple and natural eye make up remover' which efficiently vanishes junk whilst 'leaving no greasy feel or residue'.
Water resistant products are no problem either! As well as removing makeup this 2 in 1 also cares for your lashes by leaving a protective layer on them which results in 'visibly less eyelashes on the cotton pad'.
Results are seen in 4 weeks!
No rubbing is required and it's suitable for sensitive skin and gentle on your beautiful peepers!
Simple kind to skin eye make up remover
Simple believe in being kind to skin, the planet and people!
So for that reason they created kind to skin eye makeup remover which is free from not only colour and artificial perfume but harsh chemicals that can upset the skin too.
If this doesn't make it suitable for us sensitive skin peeps, I don't know what does!
It is oil free therefore non greasy and doesn't leave any residue. It's 100% recyclable packaging makes it plant friendly and it being peta approved makes it animal friendly!
The body shop camomile gentle eye makeup remover
The body shop camomile gentle makeup remover is said to be 'tough on makeup but kind to your delicate skin'!
I mean that's definitely something us sensitive skin peeps need!
It doesn't only melt makeup from lashes and lids but soothes the skin too!
Camomile extract is known for its soothing effect on the skin, no wonder body shop decided to use it!
If you are a fan of smokey eyes, winged liner or the glimmer of glitter on lids but have been put back from trying, due to your crying eyes when removing time  comes then fret not!
This gentle eye makeup remover will take care of the makeup mess and your delicate eyes!
Glossier milky oil waterproof makeup remover
Glossier state their makeup remover requires no rubbing or tugging as the formula does all the job by melting and lifting off long wearing and waterproof products. Definitely sensitive eye approved!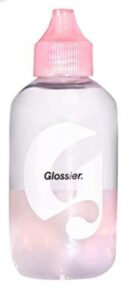 The milky oil remover doesn't only remove waterproof makeup but also conditions and soothes so that your complexion is left 'soft and fresh', all thanks to the comfrey root extract and pro vitamin B5.
Oh and if you are prone to making mess like me then you'll want to know this remover comes in a squeezable bottle and dispenser which is tapered.
The formula although it's labeled as milky, doesn't use actual milk, it's a combination of micellar water and weightless oil mix.
That's it for now folks!
If you don't want to leave yet then tap here to view foundations to match made for sensitive skin!
Or you can view more eye makeup removers here!
Do you have a special routine to remove all that dirt and cleanse your eyes? Drop your answers down below!
Have a great day!?
Please follow and like us: