It can be quite annoying and a waste of money when a product you really liked doesn't get along with your eyes! You insist on them to accept your advances however they just won't listen, they'll throw tears in a bid to get rid of the product so for that reason I've listed a bunch of awesome vegan eyeliners for sensitive eyes that'll make them change their mind! Check them out!
Generally eyeliners which are suitable for sensitive eyes are free from harsh chemicals like parabens, waterproof and vegan formulas are also ideal.
Quick Overview 
Green people high definition eyeliner
Lush independent eyeliner
The body shop liquid eyeliner
Milk makeup infinity long wear eyeliner
Ere Perez jojoba oil eye pencil
Green people high definition eyeliner
Described as 'a natural eyeliner pencil with intense black mineral pigment' the high definition liner is a perfect choice for creating a long-lasting effect. It's soft, easy glide formula is enriched with vitamins C, E, marula oil, shea butter and jojoba oil. Which are all promised to be natural, organic, and sustainably sourced! That's got to be sensitive eye friendly for sure!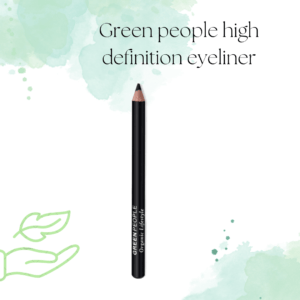 As the formula is said to be highly concentrated, a little certainty goes a long way! It features a water repellent and blendable colour so once applied you can rock on without worrying about your hard work melting!
Lush independent eyeliner
Whether you are a fan of winged eyeliners or the subtle everyday look, the lush independent eyeliner features 'soothing base of organic jojoba. The Fair Trade organic aloe vera gel' allows you to pull it off whilst being gentle on the delicate eye area, gliding seamlessly.
Lush cosmetics try their best to use fresh raw ingredients you can check out their freshness policy, you'll be amazed plus they're handmade. Lush independent liner is said to be lightweight as well as super pigmented.
The body shop liquid eyeliner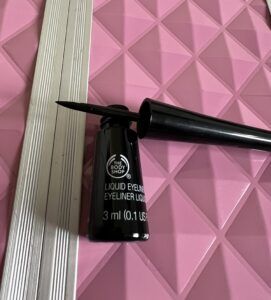 The body shop liquid eyeliner hasn't only been ophthalmologically tested but dermatologically tested too, double tested! Plus its suitable for contact len wearers as well. The inclusion of marula oil helps to nourish the skin. Along with an intense colour and 'precise easy-to-control tip' this liner is perfect for an 'intense flick'.
According to the brand, this liner delivers bold and smudge resistant finish to ensure long-lasting results. It comes in 2 shades, black and brown.
Check out how this liner actually performs by tapping here!
Milk makeup infinity long wear eyeliner
Coming in 3 shades; black, brown and even a blue! The milk makeup liner isn't called infinity long wear for no reason, oh no, it supposedly can last up to 12 hours and that's with smudge resistant as well as water resistant wear!
The liner applies smoothly, no tugging thanks to it's addition of skin loving ingredients! You get a good mixture of avocado oil, aloe vera and ceramides soothing and nourishing the skin. The infinity liner is also water line safe and for contact lens wearers, ophthalmologists tested and free from fragrance!
Did I mention it is retractable and comes with its own built in sharpener. And even a smudger tip, that's a pretty useful tool!
For a full in depth review on the milk makeup eyeliner tap here!
Ere Perez jojoba oil eye pencil
Created using a 'soothing formulation' that consists of oils like jojoba oil which is known to nourish as well as condition eyes, it's a great choice. The jojoba oil according to the brand is designed for sensitive eyes and skin! Coconut along with vitamin E are used too. The jojoba liner offers 10 cool shades to allow you to create your art. Shades include the classic black and browns, purple, copper, clay and much more.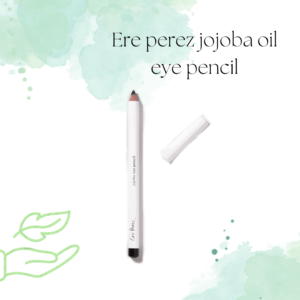 These pencils are said to be easy to sharpen and are zero waste being 100% plastic free. With a soft, blendable and natural consistency, creating a smokey look hasn't been easier or you can go for the simple natural eye.
That's it for now peeps!
But if you don't want to leave just yet then I suggest you check out these vegan mascaras made for sensitive eyes!
If you have a skin that gets irritated quite easily then you must check out these foundations designed for delicate skins in my mind!
Have a great day!
Please follow and like us: