Fed up of your eyes crying involuntarily or getting irritated then I suggest you check out these best sensitive eyes mascara that'll (fingers crossed) let you continue finishing your master piece instead of having to go for a tissue!
You can also view sensitive eye friendly eyeliners here!
Quick overview
Tarte mini lash
Phb ethical beauty all in one natural mascara
Silly George heart eyes mascara
Green eyes volumizing mascara
100% pure maracuja oil mascara
Tarte mini lash mascara
The tarte mini lash smoothie is ophthalmologist tested, vegan and cruelty-free mascara as well as being free from other junk. It's basically a lash treatment and mascara, a 2 in 1 or like tarte state a 'green smoothie for your lashes'.
It's full of skinvigorating ingredients including castor oil to promote healthier looking lashes, kiwi for conditioning lashes, avocado to nourish lashes, plant waxes and baobab to repair and condition them just to name a few! It's safe for contact wearers and sensitive eyes alike.
PHB ethical beauty all in one natural mascara
As you can tell by the name of course it is going to be suitable for sensitive eyes, it is a natural mascara handmade using botanical oils to not only lengthen and strengthen but protect your precious lashes too!
PHB state this masca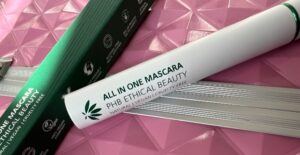 ra is suitable for all skin types and eyes including those that react easily to water. It's pH balanced too!
It features a gentle water resistant formula which is said to last all day apparently without smudging neither flaking.
This mascara is an award winner too of the natural beauty award, adored by not only customers but beauty experts too! Star ingredients include organic olive oil and acacia gum.
Tap here for a in depth review of the phb ethical beauty mascara!
Silly George heart eyes mascara
'Perfect for oily eyelids or watery eyes', the heart eyes mascara features a gentle formula that'll only give you tears of delight! With the tubing mascara you can plump up those beautiful lashes of yours or add length too!
Their formula uses a unique technology which creates a tube around your lashes, leaving an outcome with thickened and lengthened lash in one motion! So if you want a smudge, budge and grub free lash then I guess silly George's heart eyes mascara is the one for you!
Green people volumising mascara
According to the telegraph this is one of the best mascaras to buy in 2022! And it's great knowing that one of their promise is that it's kind to sensitive eyes as well as being vegetarian and cruelty-free!
You'd also be pleased to know this is a certified organic mascara with the brand stating '98% ingredients are of natural origin'!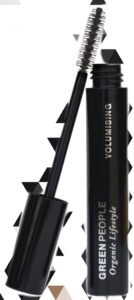 As you can tell by the name this mascara helps not only volumise but condition and lengthen lashes too. The formula is concentrated too meaning a little certainly goes a long way!
Apparently one of the best mascaras to buy in 2022!
100% Pure Maracuja Oil Mascara
The 100% pure mascara featuring maracuja oil is said to be 'Perfect for all, especially those with sensitive eyes' according to the brand. This mascara is free from fragrance, gluten as well as other toxins and non nano too!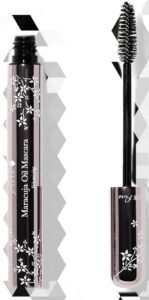 This mascara plays a great role in holding the curl in your lashes as well as volumising and adding lengthen.
Its water, smudge as well as flake resistant ensuring you're ready for whatever the day throws at you!
What's your favourite mascara brand? Let me know in the comment section below!
If you don't want to leave then tap here to check out more awesome vegan mascaras!
Or if you want to check out sensitive skin foundations to match your delicate skin then tap here!
Have a great day!
Please follow and like us: