The body shop liquid eyeliner came into my grasp when I was doing a little skincare shopping and since I ended up landing on the body shop website I thought I'd try their eyeliner out too!
The reviews seemed good too so why not! After trying, it out here are my favourite as well as not so cool aspects of the liquid liner.
What is the body shop liquid eyeliner about?
The body shop liquid eyeliner according to the brand is a product providing 'intense colour' along with the ability to deliver bold, smudge resistant results so that you can achieve that 'perfect flick'. It features precise tip that's said to be easy to control (hopefully). It's available in 2 colours, black and brown with a matte finish.
Apart from that this liner has also been not only dermatologically tested but ophthalmologic-ally tested too! As well as being suitable for contact lens wearers too. Dermatologically focuses on the skin whereas ophthalmologists is related to the eye so this liner should definitely be sensitive eye friendly, something which I'm looking for.
With 4.5 out of 5 stars I was definitely excited to try it out! So how good was it? Let's find out!
Application
Personally I am not a fan of liners with brush tip applicators as they appear flimsy for me therefore make it hard for me to get even a near straight line, too shakey! Eyeliners like the glossier pro tip liner are my preferred type.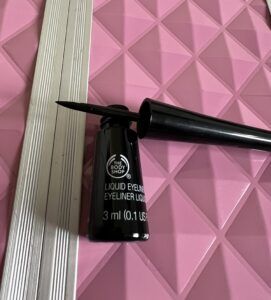 When I first saw the applicator for the liquid liner I was a little upset, I'm not going to lie but after I had actually swiped the product on I was put at ease.
It wasn't as loose as I had expected, quite the opposite. It is sturdy yet gentle enough as to not feel it get dragged across your eyes. My line did come out much better than I thought it would. So definitely 'easy to apply' as the body shop had mentioned.
With that being successfully checked off, how was it's performance in the precision aspect? Well currently it does apply thick and thin lines well however it does look like it may loose its precision overtime especially if you apply with a little force so be gentle!
Performance
Body shop state the liquid liner is a smudge resistant product which I can agree to some extent, and what do I mean by that? So basically you have to let it dry for a good few seconds otherwise you are going to end up smudging your masterpiece. Once you have given it time to dry though there isn't any issues!
Pigmentation is certainly intense, it has a rich hue to it that's visible from the first swipe which means mistakes are most likely visible easier, and I'm prone to that often even more so when I'm in a hurry. But that's why I'm also glad this liner is easily removable with a good makeup remover that is though.
This liner should be suitable for sensitive eyes since it has been tested, and can be applied on the upper as well as lower lash line. There's also the addition of marula oil which is known to condition the skin. From my experience my eyes didn't react negatively so that's a thumbs up!
Lastage
Now I believe a product wear time should be quite long, I mean after all that time and concentration creating your art who wants it fading in front of your very own eyes, watching helplessly, that's cruel!
Anyways this liner got through 6 hours quite well until I decided I had enough and gave it a wipe. It certainly could have gone at least an hour or more since there weren't any major signs of weakness like fading or going patchy.
Now it does seem like everything is going good with this product but that can't be true can it? Certainly not so I had to pick out what I didn't like and that is the quantity of formula packed, it's quite a tiny amount especially if you are going to be using it daily. There was also a slight problem of transferring more so by the lower lash line, requiring me to grab my trusty q tip to fix it. Other than that it was actually fine.
So is the body shop liquid eyeliner worth buying?
So with all that being said it's time for the final settlement, with a rating of 7/10 from me is it worth buying?
I think it's ideal for anyone who is looking for a sensitive eye friendly product that lasts a decent time offering a great pigmentation too. For daily use I wouldn't recommend unless you don't mind regular purchases since it does finish quite quickly.
That's it for now peeps but if you don't want to leave just yet then I suggest you check out more vegan liquid eyeliners here!
Have a great day!
Please follow and like us: