So what is the best eyeliner for oily eyelids you ask? Well for starters it has to be strong, we're looking for something that can withstand the excess oil production made by our very own skins! A good liner has to be certainly long wearing too, not releasing streaks so waterproof is another feature we're ideally after.
Also, eye products which are soft such as kohl or creamy liners aren't usually a wise choice since they tend to be weak therefore melt off easily. Pencil eyeliners are a good option though.
Shall we get rolling! I sure think so!
Quick Overview
Anastasia Beverly Hills liquid liner
Mizon vegan eyeliner
NYX epic ink liner
Lolo lashes black magnetic eyeliner
Anastasia beverly hills liquid liner
The Anastasia Beverly hills liquid liner is a good option for oily lids thanks to it's 'long-lasting, waterproof' formula which dries super quick to form a solid line that doesn't feather, run, flake nor fade. It's highly saturated, true matte black shade ensures your work is as bold as you are!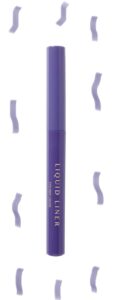 It is easy to use since it features an ultra fine felt tip, allowing for a smooth controlled and precise movement so that you can create whatever your heart desires whether that be 'superfine lines or perfect cat-eyes to bold eyeliner looks'! The formula is also free from junk like 'parabens, gluten, phthalates, alcohol as well as mineral oil'.
Mizon vegan eyeliner

Described as a 'ultra-vivid, jet-black liquid line' the mizon is the brand's sturdiest creation. Some of their favoured feature include it's high intensity pigment as well as an even glide product depositition, 'reminiscent of a felt marker'.
According to the brand their formula is 'smudge-proof, waterproof and oil-proof'! That's what we oily lid peeps need! Plus the 'high-elasticity fibres' ensures there are no ends splitting instead ultra sharp lines. This liner also promises of no streakness but instead high definition looks.
An overall great oil resistant eyeliner!
Nyx epic ink eyeliner
The nyx epic ink eyeliner features a 'slender and supple brush tip' which gives you the control over how thick or thin you would like your liner by pressing it down gently. Create natural or bold looks, it is totally up-to you! With every stroke leaving a waterproof as well as long-lasting results it can certainly go down as the best liquid eyeliner for oily lids!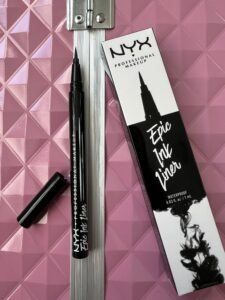 The epic ink eyeliner is available in 2 shades; brown which is ideal for soft effects and black to add intensity!
You can check out the full review here!
Lola lashes black magnetic eyeliner
I know you're probably like magnetic? An eyeliner? What is that? Well the Lola lashes black magnetic eyeliner is a uniquely formulated product that's designed to be worn with magnetic lashes but if you don't wear them that's fine as this liner is still safe for use regardless.
As well as being vegan and cruelty-free, it's also free from latex, mineral oil, paraben and phthalates. But why is it suitable for oily lids? Well apparently their premium formula offer the best long wear results in the market, up to 24+ hours staying put through rain and wind. Definitely the best eyeliner for oily skin!
That's it for now peeps! But if you don't want to leave just yet then I suggest you check out foundations made for oily skins peeps here!
Do you have a certain issue with your eyeliner which is getting on your nerves? Comment down below or wherever the comment section is!
Have a great day!
Please follow and like us: