The milk makeup eyeliner or to be precise the milk makeup infinity long wear eyeliner came to my grasp when I was initially looking for another product, that is the kush mascara. So in dropped the kush mascara along with the infinity longwear eyeliner too! By the way this eyeliner is a new release so pretty exciting stuff.
Though it does come in 3 shades; black, brown and blue, I decided to go for the blue one since I don't actually own a blue eyeliner. Plus it looked good too! Anyways let's see how this liner performs? Shall we begin?!
Description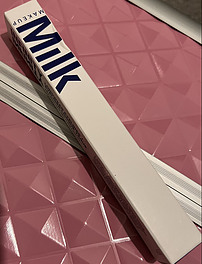 The milk makeup infinity long wear eyeliner comes in a retractable or twist up (whichever word you prefer) form. It apparently delivers intense colour that is said to last 'for up to 12 hours' with waterproof and smudge proof properties too! That's quite a while, think that's why they're decided to go for the name 'infinity long wear'.
A cool thing about this milk makeup eyeliner is that it not only comes in a retractable form but with a sharpener too! A thoughtful and unique design right?! If you have sensitive eyes like me then I think you need to not worry since this is waterline safe as well as ophthalmologist tested.
Application
Application should be a breeze judging by what the brand state about this liner, 'glides on smooth without any pulling or tugging'. Plus the addition of skin loving ingredients like avocado oil and ceramides should surely further enhance the application process since they are known to provide nourishment. So how was it?
I can actually see the texture of the pencil does certainly have some softness to it, I didn't need to tug nor pull however I can feel it poke a little when using it on my lower water line, it wasn't so bad that I had to pull away though.
However on my lids it wasn't an issue. Overall I would agree that it is easy to apply, of course it isn't a gel liner, so I should expect some sensation.
The retractable pencil is a good idea until they get stuck with half the product either sticking out or stuck in! I've experienced that with quite a few products to the point I almost gave up buying this form of items. That being said so far this pencil is doing a good job, fingers crossed it stays like that though.
Pigmentation
The pigmentation should be intense as well as creamy as stated by milk makeup to which I would say is 50/50! The swatch appears all nice and rich on the hand however when it comes to the eyes, it lacks that lively look. Don't get me wrong it is visible but in comparison to the swatch it looses out.
As for the creaminess, it's not quite there especially when you look at other formulas labelled as creamy but as long as it goes on easily, I'm not too bothered. Plus it is smudge-able with their built in tip like milk makeup state so technically they could get away with it.
Moving onto the formula, it's a thumbs up from my eyes so a thumbs up from me. I didn't experience any redness nor watery eyes which is a common occurrence especially when trying out new products. I guess the 'clean, paraben-free, and fragrance-free' ingredients do work. This liner is also safe for contact lens wearer too!
Since I did purchase the blue shade, you're probably wondering how strong it's hue is. Well from a distance it isn't too obvious, it can pull off as a greyish colour upon further inspection, like from close up, that's when you can see the blue tint.
Lastage
Now time for the finale, what we have all been waiting for! Does the infinity long wear liner live up to it's name?!
Well guess what! I think it can keep it's name. I may have not worn it for the full 16 hours, I mean does anyone intentionally? I don't know maybe but not me.
Anyways so I wore this liner for approximately 9 hours until I decided times up, it was doing great though. I mean there were a few smudge marks here and there but nothing too dramatic. So long wear it is!
Overall I rate the milk makeup infinity long wear eyeliner a big 8.5/10! The lastage is definitely its advantage with ease of application coming next. However, the pigmentation/texture can do with some mending. It would also be awesome to see a variety of shades on offer, that would be delightful!
The inclusion of a sharpener along with a blending/smudging tip is a thoughtful idea.
Right peeps that's it for now! But if you really don't want to leave then check out these awesome long lasting eyeliners here!
Have a great day!
Please follow and like us: