The milk makeup kush mascara certainly has an eye-catching design thanks to its shiny tube which also has a quality feel to it too! Anyways we're here for the performance so shall we begin?
Right starting off with what the brand state!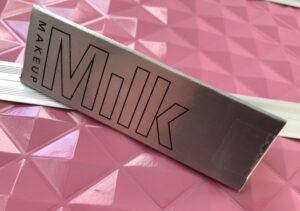 Disclosure: This post may contain affiliate links which means that I may earn commission if click and make a purchase but no additional cost to you.
Description
Milk makeup clearly state this is their award-winning vegan mascara, made for anyone longing for 'super thick, full high volume lashes' working their way from root to tip! That certainly got me wanting to grab one.
It's also said to be infused with something a little different compared to other mascaras, 'conditioning hemp derived cannabis seed oil' which apparently is what will leave your lashes softer as well as healthier looking.
It's not only vegan and cruelty-free but silicone, paraben and fragrance free too.
Now let's get into the milk makeup kush mascara review, I'll go through my favourite aspects as well as anything I weren't a fan on!
Application
Application is just like any other mascara, the bristles are designed with short and long strands enabling even colour distribution. Milk suggest wiggling the brush from root to tip of lashes to coat them whilst the tapered design of the brush allows easy reach for inner corners and bottom lash.
Applying the formula is okay with this wand however I find the bristles to be a little flimsy. I prefer firm and more dense wands. But anyhow this bristle does the job which is what we're after right?!
The formula isn't drying which I'm guessing is the work of the cannabis seed oil. The moisturizing formula doesn't only soften the lashes a little, it makes reapplying all the more easier too. Instead of having to run over hard spider-leg-of-a-lash, you're met with a much more compliant lash.
Application = 8/10!
Lastage
Moving onto the lastage, the milk makeup kush mascara stayed put for roughly 6 hours until I had to reapply which to be fair I don't mind as it was quite easy to get on.
I had to recurl my lashes a little as they started to drop down, this is the usual problem for me with many mascaras, not sure why though, I suspect it's because I have thick and heavy lashes.
The main reason why I had to reapply was due to the lashes appearing less bold and some slight signs of crumbling which suggested the formula was falling apart.
Lastage = 7/10!
Results
A test run by the brand itself shows around '95%' of its 21 users immediately saw results which includes intense volume and longer lashes.
Of course everyone has their own experiences which vary but that is a high and proud number which I'm not going to lie, did have me in.
So the results?
Well it did add volume and create visibly thick lashes especially on the second coat. The first coat gave a decent coverage which I think would be great for a natural subtle look.
Milk makeup did mention their formula to be conditioning with soft and 'never stiff' expections to which I can agree to a certain extent. The formula did leave my lashes feeling soft but that's if I compare it to other formulas otherwise whilst I'm wearing it, I wasn't screaming out 'ahh soft'!
In other words I'd give it to them, after all it's better than a few I've tried. It doesn't cause my lashes to clump or seem overly dry which makes topping up pleasant.
Oh and did I mention how nice their packaging is, it's got a heavy quality feel to it, not that heavy but a tiny bit compared to other mascaras. The mascara bottle is shiny too adding to that pricey look. Be sure to keep it clean!
Performance = 8/10!
Overall
So overall I rate this mascara an 8/10! The formula does keep the lashes soft and provides decent results which are visible especially on the second coat. It features a clean formula too and doesn't harden lashes as much.
There is slight crumbling however and I would prefer a more stable bristle but regardless I think it's a great product to incorporate in one's daily look!
If you'd like to try out the kush mascara then I suggest you tap here!
For peeps who are after something a little more subtle or a natural look then I definitely suggest you check out the rise mascara by milk makeup.
What's your favourite mascara? Drop the answers down below in the comment section!
Or for more awesome vegan mascaras then tap here!
Have a great day!
Please follow and like us: