If you want to know if this foundation is able to provide medium coverage without feeling heavy, which is what the brand state, then continue reading the anastasia beverly hills luminous foundation review!
I was gifted the Anastasia Beverly hills foundation a while back but hadn't even touched it, let alone open it. There were 3 reasons as to why though.
Reason number one being, I had forgotten about it, number two I was quite happy with my current foundation so didn't bother testing another one and lastly I'm not a massive fan of medium to full coverage. (BTW I don't have perfect skin)
Luckily for you guys though, I was reminded of it by an advertisement that popped up whilst watching something.
So as I didn't know much about this brand, in terms of how vegan friendly it is, I had to do a quick research and gladly found out that the Anastasia Beverly hills luminous foundation was, I mean is vegan and cruelty-free, so yay!
But be aware not all of their products are vegan though they are cruelty-free.
So it passed the vegan and cruelty-free test, now time for the full Anastasia beverly hills luminous foundation review.
Disclosure: This post may contain affiliate links which means that I may earn commission if click and make a purchase but no additional cost to you.
Quick overview:
Pros
A little goes a long way
Great lastage
Easily blendable
Massive shade range
No skin reactions/ irritation
Accident resistant packaging
Cons
Let's see what ABH have to say about their product first:
"Anastasia is a water-resistant liquid foundation that creates a luminous, natural finish. The radiant formula delivers long-wearing, medium coverage yet still feels weightless and looks ultra-fresh".
Okay enough of the talk, let's get going!
Let's start off with the packaging as it is the first thing you notice when you pick the product up.
It comes in a nice rectangular shaped silver box with the name clearly readable. The silver packaging is shiny and a little reflective.
Once you open it up, you then find the formula inside a sleek glass bottle, shut with a plastic lid that has a pump. The bottle also has the brand name on it written clearly.
The bottle is pretty cool as it comes with a pump so basically you are less likely to waste any and less accidental spillages!
Coverage
The luminous foundation is made to be 'long-wearing  with medium coverage', but does it easily achieve this?
YES! It does especially when using a damp sponge.
You only need about 2 pumps to give you a decent medium coverage but if you want a full coverage then an extra pump will do the trick.
The medium coverage did hide imperfections well such as discolouration and redness so I'm guessing it definitely does cover up other skin imperfections too!
As for lastage, I was told that this foundation has a great stay power but I wasn't totally convinced until I tested it myself.
So basically the test took place on a rainy day (common in the UK). DRUM ROLL!
The results were….
Positive!! YAY!
The foundation went for a little ride for about 9 hours which included a bit of nature aka rain.
There were no major melting (which was my main worry) even on oily areas, apart from a little on the forehead but overall I was impressed with the 'long-wearing' statement Anastasia mentioned.
I suggest using powder on top to maximize the stay power.
Was blending as easy!
Of course when you are applying foundation, you don't just splat it on and then there you're done, you have to blend it and it has to be easy unless you enjoy scrubbing your face!
So how did I find the Beverly hills foundation?
I can tell you that blending was like spreading margarine on bread! It was so easy, which surprised me after looking at the consistency of this product, it did look a little thick.
This leads me to talk about the weight of the foundation on the skin.
Any cons?
The only downside I can think of this product is the heaviness, it felt a little heavy on my skin, anastasia did state it should feel lightweight and like a second skin. I mean it could be due to my personal preference of light coverage products or tinted moisturiser. I am a fan of tinted moisturisers or anything light so maybe that is why this foundation feels a little like a blanket.
But this shouldn't stop me from purchasing it again as I know I might just be nit picking at the moment due to being used to light coverage and not often wearing foundation.
With that aside, what I do find pretty impressive is the whopping 50 shades it is available in and it's formulated without gluten, parabens, alcohol, oil, mineral oil or talc!
Oh I'd like to add, my skin sometimes decides to react randomly by going itchy and dry but this time I escaped the consequences! PHEW! So I can say it's suitable for sensitive skin as well as all other types!
The 'natural finish' statement encouraged me to try it on in the first place and I was pleased to find that my skin was left with a radiant look.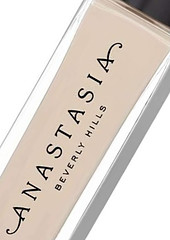 Overall
I would give this foundation a 8/10!
My most favourite aspect about this product was it's ease of blendability as well as the large range of foundation shades.
But I would give it more points if I somehow open up to the feel of medium to full coverage foundations. (I think it would be fairly easy though)
Would I buy it? Not entirely sure as it's on the high end but overall I did like the outcome of this product.
If you feel like you can relate to any of these issue or basically want a long wearing, easily blendable, medium to full coverage foundation then I suggest you give it a try!
To check out more awesome vegan foundations then tap here!
Let me know what you peeps think about this product, in the comment section below!
Have a great day!
Please follow and like us:
Reviewer
Review Date
⭐⭐⭐⭐





Product Name
Anastasia Beverly hills luminous foundation
Price
Product Availability