Today I am going to be reviewing the inika organic liquid foundation, more specifically the inika certified organic liquid foundation. See you could see half the goodness in the name!
I had been researching a while back for vegan foundations that also were organic and that's when I happen to come across inika.
You see, whilst being organic the liquid foundation has added greatness with skin benefiting ingredients including argon oil which softens skin as well as many other advantages, lavender which has anti-bacterial properties and green tea, which is an anti oxidant to name a few.
That's why I think it could be one of the best organic liquid foundation!
But these aren't the reasons why I decided to purchase the inika foundation, below I am going to go through my favourite aspects of this product and if there are any things which I wasn't to pleased with.
Quick overview:
Pros
Lightweight
Blendable
Great for sensitive skin
Beneficial skin ingredients
Cons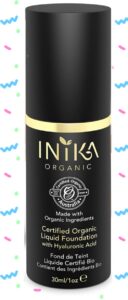 Disclosure: This post may contain affiliate links which means that I may earn commission if you click and make a purchase but no additional cost to you.
How does it look?
My most favourite thing about this foundation is the natural look it gives, it's lightweight and smooth, making it great for a normal everyday look.
I'm not the only person who thinks it gives a nice complexion as when I chose to wear it to an outing, a few people I know asked me if I was wearing any foundation.
They thought the product looked really fitting with the skin in other words the shade matched the skin really well. I only wore one layer as well to create the skin-like look.
But don't worry if you want something heavier, it's quite easily blendable and buildable. Just keep adding until you get the desired look!
Blendable or nay?
I'm sure most of you have experienced the problem with some foundations when you apply the product on your skin and then realise that you can't freaking blend it unless you carry on buffing for ages. Who's got the time for that!
Well luckily that wasn't the case with this product. Using my fingertips, I really enjoyed applying it as it easily glided across my face.
I tested the blendability with a brush and a beauty blender. And you want to know which option I chose to be the easiest? Well I found that the brush was the best for setting it onto my skin.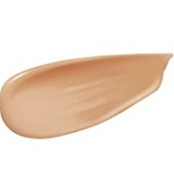 Even great for sensitive skin!
My skin for some reason goes especially sensitive in the summer so that's partly what made me try out inika as it contains organic ingredients so chemicals can't mess with my face, well that's what I thought.
And do you want to know if my thought was anywhere near a reality?
Well I can say it was a good outcome. When I said sensitive I meant it used to go all red and dry with previous foundations, so when I tried inika, it definitely soothed my skin a little as it reduced the dryness and the redness wasnt as visible.
I think it reduced the dryness as it contains hyaluronic acid which is known to hydrate the skin.
My overall opinion
Overall I think this foundation is great for dry and sensitive skin judging by my experiences but obviously not limited to this skin type. You could always try it and find your outcome.
This produce doesn't have any oily residue so oily and combination skinned peeps can give it a go. It contains a handful of skin benefiting ingredients and super blendable, so what are you waiting for?
Okay you probably thinking it can't be that perfect so I had to look for at least one drawback which happens to be the shade range. I think it would be great if they expand the shades.

And that's it peeps, there you have it my honest-as-possible review. These were just some of the good things about this product and there are many more so if you really want to see what it's about then go and grab yours and to find out!
Not sure if any of youse can relate but if you think you have had similar problems or have your own opinion of this product then feel free to jot them down as well as any suggestions or questions.
To check out more awesome vegan foundations then tap here!
Or if you're looking for products with more goodness then I suggest you check out the inika organic eyeliner out too!
Thanks for reading and have a great day!
Please follow and like us: