The kat von d apple foundation is a best seller according to the brand. It can be seen used across many platforms including tiktok and TV shows like love island. But that is not why I decided to purchase this full coverage foundation. Trust me!
If you'd like to see how this foundation performs including my favourite aspects as well as anything I weren't a fan of then I suggest you hang on!
Here we go!
Description
The kvd apple foundation is a 'buildable, full-coverage, hydrating' balm, that promises to leave you with a fresh natural matte finish. The formula is said to be lightweight with a long-lasting result that has the potential to cover a range of imperfections instantly including blemishes, discolouration and tattoos to name a few.
Another feature you must know about is the foundations ingredients! It contains 'good for skin' ingredients, and for those of you who are pondering where the name inspiration comes from well it's because there is an apple extract infused in it. Plus the addition of sodium hyaluronate ensuring a well hydrated and nourished skin.
A few other characteristics to know about is the fully recyclable packaging, vegan and cruelty-free formula as well as it being non comedogenic!
Shades
The shade range of the kvd apple foundation balm is quite extensive, with over 35 shades! There are shades with a range of undertones too, including neutrals, cools as well as warms.
The fairest of them all is 'light 002', made for very fair skin with neutral undertones and the deepest being 'deep 098' that's suitable for very deep skin with cool neutral undertones.
Massive shade ranges are cool however if I'm finding the correct shades myself then that could be a little exhausting since there are many to go through unless you know what you are doing. Even more so if your shade changes with the seasons, LOL like me! Sometimes I have to mix 2 shades to make a match and that can be annoying.
So the shade that I decided to go for was the 'medium 027' which is labelled ideal for medium skin with cool undertones. At first, I was thinking it may not match or may require another shade however so far it fits well. I guess I'll have to wait for the change of seasons to truly see it's compatibility with my skin!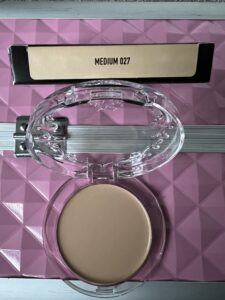 Application
Kat von d recommends applying this foundation using either a sponge or brush which is exactly what I decided to do. Usually I'd use my fingers since I typically go for light coverage. I am well aware this product provides full coverage so for that reason I decided to follow the application instructions suggested by kvd.
I went with a brush that wasn't as dense since I want more control and not that much coverage. The brand state to use a patting motion so that's exactly what I did. At first it seemed a little too thick, which I am expecting since it is a full coverage product, but once I got blending, I was much happier with the results.
I would consider the weight quite light after I used a small amount, you have got to use a little bit because as kvd mention with this foundation, a little goes a long way! I learned this through trail and error. 
Otherwise you'll definitely end up feeling a little stiff especially if you use light coverage products like me. As for blending, that too was easy, especially if you blend as soon as you apply. Don't wait for it to dry peeps unless you want to be digging at your face to smudge the colour. Apply a little, build as you need, you'll find it does as it says!
Lastage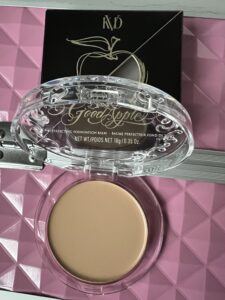 So according to kvd the apple foundation should offer a long-lasting wear but they don't mention a specific or approximate number. For that reason I was uncertain of how long it would last. Though they do say all day. A long-lasting foundation in me opinion should get through minimum of 6 hours, no less! This could vary for individuals.
So how long did it last? The total hours it clinged on for was around 7 hours and a half till it required a little retouch. The oily areas of my skin specifically the t zone areas had begun to shine requiring me to blot and reapply.
I can't say the same for the dry areas though, they were perfect as I had first applied which proves the brands recommended skin type which is dry skin.
Other than the excess oil production, I didn't experience any other major issues so an overall thumbs up for the performance. I'm yet to evaluate how long the actual product will last, just to let you know this foundation won't be worn daily. Nothing against it, as said before I prefer light coverage
Worth it or nay?
So overall I give the kvd apple foundation balm a rating of 9/10! I think if you are a fan of full coverage foundations but don't want the heavy weight characteristic that often comes with them, you will hopefully find this an ideal choice! It is quite easy to blend and lasts a while too.
Dry skin peeps will surely benefit the most however that's not to say oily or combo individuals won't. Just remember to use a setting powder to make the most of it!
Have a great day!
Please follow and like us: