I have been trying out quite a few glossier products out recently and what can I say! So far I'm pretty impressed with their lineup and what they have to offer! I have tried the pro tip eyeliner, glossier lip gloss as well as their generation g lipstick so this time I thought why not give their eyeshadow a go, the glossier skywash.
Quick Overview
Pros
Good lastage
Results in a soft diffused effect
Applies smoothly
Doesn't feel powdery
Blendable
Travel friendly
Cons
Limited shade range
Some fading
Description
The skywash eyeshadow by glossier is best described as a 'soft wash' of colour finished in a sheer matte tint. It is liquid at first however dries down to a powder form, ultimately achieving a diffused soft effect.
Though is dries down to a powder form, glossier promise that it won't feel powdery replaced instead with a smooth finish. The shadow itself features a silky and blendable formula that supposedly melts into the skin for a long-lasting diffused effect. The brand state their colours can be used to add depth or a 'modern wash' of colour.
Other cool features to note are the cruelty-free and vegan formula, it's smudge resistant, buildable and long wearing of up to 12 hours according to the brand. Also, formulated without fragrance and gluten, dermatologist and ophthalmologist tested too making it safe for sensitive skin peeps!
Shades
The glossier skywash comes in 7 shades drawing their inspiration from 'dreamy southwest landscapes'. So it only makes sense if they are named after the materials the make up the scenery. The shade range consist of:
Lawn – a fresh green
Palm – described as a golden beige
Valley – a warm peach
Terra – a burnt Sienna
Echo – is a cocoa brown
Pebble – a natural taupe
And last but not least Pool – a cornflower blue which also kind of looks like a nice blue sky!
So which shade did I get since they are all great?
Though it did seem hard to pick one shade since they all do appear nice I decided to go for the burnt Sienna otherwise known as 'Terra'.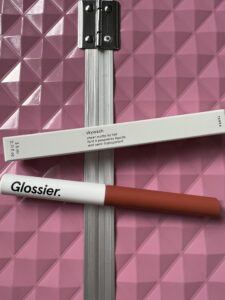 The shades selection I think is quite thought out as they all can be used to add a range of effects to any look, like definition or a subtle wash of colour. The deeper shades can add definition whereas the light shade pool or pebble is a great choice for a soft effect.
Lastage
According to glossier I should get 12 hours of beautiful colour, okay maybe not that much but at least around that much. I'd say minimum 7-8 hours.
Okay so now time for some truth. How long did it put up with my hassle? Well I'm going to say I'm certainly impressed with the stay power, I mean there were little issues here and there but nothing too drastic.
What I define as a little issue is fading. Though the colour did withstand some oiliness from my lids it did appear to disappear at around the 5th hour mark. Which probably makes you wonder how long did it last? It was somewhere between 5th and 6th hours.
Though it didn't meet my expectations, I'm still impressed by the lastage since I have one of the oiliest lids, often drastically reducing even the toughest of shadows with the help of my finger wiping!
Before reaching any verdict on the stay power I think it would be wise to check out the other shades, something more richer in tone. Maybe that has a stronger pigment than the lighter hues.
The verdict!
Overall I give the glossier skywash a rating of 8/10! It gives a great subtle wash of colour. You can say exactly like glossier state in terms of the soft finished diffused effect. It goes on smoothly without any issues and doesn't require any additional equipment therefore making it travel friendly.
The lastage is reasonable too, I've yet to check out the other shades which I am willing to purchase. Though there was some smudging as well as fading, I wouldn't say it is to the level of deterrence!
Oh how can I forget to add the gentleness of the formula! What I mean is that the eyeshadow didn't cause any irritation to my sensitive skin or eyes. So sensitive skin friendly approved!
Have a great day!
Please follow and like us: