The glossier cloud paint though is cruelty-free, not all are vegan just to let you know! Glossier is becoming one of my favourite brands for it's simplicity as well as their performance. So far I have had some good results from their product including perfume, bronzer, as well as eyeliner!
Anyways coming back to the cloud paint blush, I decided to grab myself one after seeing a friend wearing it out; looking pretty cool! The tint seemed to match the type of sheerness I look for in blushes so thought why not check it out!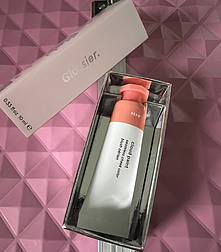 And that is how I came to this review so if you'd like to know how it performs then please do continue reading!
Description
Glossier state this cloud paint is the 'most user-friendly blush under the sun'! It features a gel-cream consistency that leaves your skin with a 'gorgeous dewy' glow and promises to not present any chalkiness or streaks!
The glossier cloud paint offers a sheer coverage with easy blending, that also allows you to layer without 'overdoing' it. All you need to do is just dab a small amount of cloud paint onto your cheeks, then tap, tap, tap and voila there you have a 'natural, flushed from within, golden hour glow'.
Shades
The shades available currently are 8, from peach to warm rose. I really like the variation in hues. It includes 'Dawn', a sunny coral, almost orange, 'beam' which is a soft peach, 'dusk' brownish nude, 'eve' is a rich mulberry as well as other beautiful berry hues in between.
I decided to go for the shade 'beam' a nice soft peach. I originally wanted to go for 'spark' which is a bright poppy, or 'haze', a deep fuchsia however they weren't available. Plus I hadn't tried the cloud paint before so I'd rather go for something more on the subtle side. Having said that I would actually love to try out the deeper berry hues, it would be something different from my accustomed taste.
I don't wear blush much either since my cheeks sometimes naturally have a pink tint therefore satisfying my need for blusher.
Application
Application is pretty easy especially since the consistency of the blush is in between creamy and gel! It isn't too thick which would often cause tightness on the skin nor too thin where the product would go running down your face, just perfect I would say! I believe the lightweight texture does surely make a 'silky, even' application as mentioned by glossier.
As you might be able to tell, using your fingers is probably the most efficient way to get this cloud on. Just dab some onto the cheeks and then gently tap and blend a little for a beautiful 'natural, flushed-from-within' glow, just like the glossier suggest!
When you give the tube a squeeze do be sure to be gentle since you may end up with more product than required as I happened to do. But thankfully my friend was there so we shared between the two of us instead of it going to go waste!
Performance
Starting off with the pigmentation, I would say according to the shade I have, 'beam' a soft peach, it isn't too highly pigmented compared to some formulas I have used in the past so I apply some at first and then usually go for another round of building if I want a more obvious result.
Otherwise, one layer just about gives a soft pink tint which is ideal for a natural glow, after all this blush does offer a sheer finish. I definitely think this is the effect of a light shade! The deeper shades certainly in my opinion will have a stronger pigmentation.
The finish of this cloud paint blush is soft almost diffused dewy look which is the work of the blurring powder pigments infused. The dewy finish is something I like about this blush since I naturally have dry skin around my cheeks, so this formula helps soothe them. There is also the addition of collagen which is known to retain a high amount of water resulting in a fresh and dewy look.
For those who have sensitive skin like me, you would be happy to know this formula has been dermatologist tested and excludes any fragrances! No wonder it didn't irritate my skin.
Lastage
The wear time for the glossier cloud paint is decent. I weren't sure as to how long my results would stay for since the brand doesn't really mention any approximate time frame nor does glossier mention 'long lasting' as one of its primary features.
So how long did I manage to squeeze out of this bronzer? I'd round it up to around 5 hours till it needed some touch up. The blush became blotchy in oily areas such as my nose and lids however remained intact on the dry areas, just above the cheeks. And yes I use blush on my lids as a shadow, it was cool though!
Overall
Overall I give the glossier cloud paint a 7.5/10! The lastage though may seem a little short, did actually surprise me. I was expecting less so for me it's not a problem. I really liked the creamy consistency which definitely made applying an easier job as well as dabbing and blending.
Pigmentation isn't bad either depending on what shade you have, the lighter shade are obviously going to appear more sheer in comparison to their richer counterparts which produce a little more of a deep tone.
Right that's it for now peeps!
But if you don't want to leave just yet then I suggest you tap here to check out more awesome creamy blushers!
Have a great day!
Please follow and like us: