I've tried a few of elf products and having had some positive experience I decided to go give the elf h2o proof eyeliner pen a try. Elf does offer products at a great affordable price so if this eyeliner doesn't work out for me then I wouldn't be too bothered, having not spent a fortune.
Right let's get into it, stick around as I go through my favourite aspects as well as anything I'm not a fan of!
Disclosure: This post may contain affiliate links which means that I may earn commission if click and make a purchase but no additional cost to you.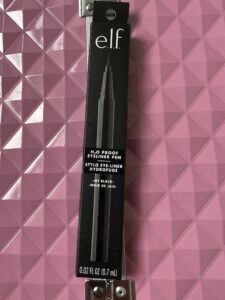 Description
Elf state their pen eyeliner is 'a waterproof liquid liner' which features a precise felt tip, essential for creating thick or thin lines.
This eyeliner also features a 'quick drying, long-lasting formula' that doesn't smudge. It apparently delivers intense 'deep black pigment that won't budge'.
Elf mention their key ingredient in the elf waterproof eyeliner pen happens to be vitamin E, making sure your lash line is well nourished and soft!
I mean I love extra benefits especially if they are skin caring!
Application
Application is overall easy, the tip is quite pointy which allows for precise lining however it is a little hard. I wouldn't say it's uncomfortable, but it's just not as flexible as I expected it to be, like the glossier pro tip.
This also ment creating a winged look wasn't as smooth but still manageable. The formula did dry quick so you can continue working on your look without wasting any time.
The elf liquid liner is a good size similar to other liners. I feel widths of liners are important as they can in a way have an effect on the thickness of your eye look, a jumbo liner would make it difficult to create a thin precise eye.
Pigmentation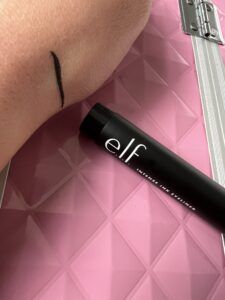 Elf mention their eyeliner delivers an 'intense, deep black pigment', so does it?
It does have a deep black pigment, and stays the same colour throughout however towards the end it does seem to gradually fade a little.
Which is not an issue with me as one it's still visible and two it's gets through most of the day, and that's what I'm after.
You can reapply if it does fade earlier, it's quick, easy and actually dries pretty rapidly just like elf stated.
Pigmentation = 8/10!
Lastage
I'm actually quite surprised as to how long it lasted considering how affordable the pricing is. It goes to show sometimes the pricing doesn't reflect the quality of a product.
The liner didn't smudge or transfer even though I did wipe my eyes a few times, forgetting I had liner on. So it definitely ticks the waterproof box as well as the smudge resistant.
However, if you have teary eyes added with the mix of rubbing then there could be a little issue.
One of the things which did bother me a little, was the cap. It is some sort of springy cap which means you have to press till it clicks otherwise you'll have the cap come flying back at you or in other words, it won't shut.
This also means opening the eyeliner is a bit hard too. You have to give it a little tug, which did end up covering my hands with eyeliner markings a few times.
Lastage = 8/10!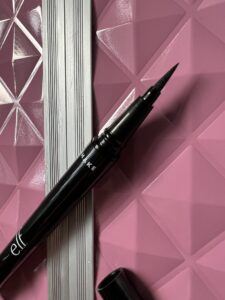 Overall
So overall I rate this eyeliner an 8/10! It has good pigmentation, is affordable, dries quick and goes on easily however I feel like the flexibility could be improved along with the cap! With that being said, I think I would repurchase the elf h20 liquid eyeliner if need be since it does offer quality results despite it's low price!
Tap here if you'd like to check the elf H2O eyeliner out for yourselves!
So that's it for now peeps, have you tried any of elf's products? What do you think of them? Let me know in the comment section below!
And if you don't want to leave then tap here to check out some more awesome vegan liquid eyeliners!
Have a great day! ?
Please follow and like us:
Review Date
⭐⭐⭐⭐





Product Name