Bronzers allow you to achieve a healthy glow, you know the kind that you would usually expect from sitting all day in the sun, but minus the harmful UV rays or those sunbeds. With the correct shade you can add some warmth to the skin. So if that is what you are after then I suggest you continue reading to find out what the best cream bronzer maybe for you!
Right let's get into it!
A quick Overview!
Refy cream bronzer
Glossier solar paint
Fenty beauty sun stalk'r instant warmth bronzer
Well people supernatural stick bronzer
Refy cream bronzer
Coming in 4 shades, refys cream bronzer allows you to not only bronze but create definition as well as blend as a base. Quite a versatile product right? Which means you can add warmth and create a deeper tan with the same product! The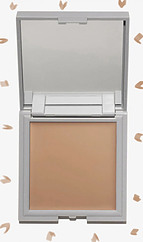 warm undertone of each shade is what gives you a 'radiant summer glow'.
The refy bronzer possesses a 'natural, velvety finish' with the addition of it's easy build-ability you can be sure to expect amazing results as promised by the brand itself!
And if you have sensitive skin then fret not since this bronzer has been dermatologically tested, making it suitable for all skin types and tones! You can also expect a moisturized skin along with the ability to remove excess oils!
Glossier solar paint
'Get sun-kissed skin instantly'!
Described as a weightless gel crème, the glossier solar paint is designed to produce 'lit-from-within' glow, seen similarly when you spend a day lounging in the sun! It also manages to boost the skin's luminosity thanks to the addition of botanical extract blend.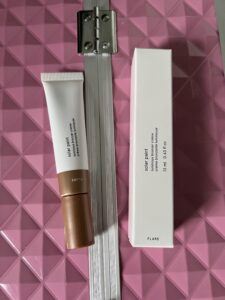 The infusion of some wonderful ingredients such as plant oils and extracts like jojoba, aloe and watermelon provide nourishment and give the bronzer a blendable and seamless finish. Whereas light reflecting pearls create a 'realistic sun kissed effect' to compliment a range of skin tones.
So if you are looking for something that's easy to use, buildable, sensitive skin friendly as well as enhancing then check the solar paint out! It sounds interesting too!
You can check out the full review on the glossier solar paint here!
Fenty beauty sun stalk'r instant warmth bronzer
The Fenty beauty instant warmth bronzer is described as a 'super smooth and creamy' powder that is light as air too! It provides an instant sun soaked glow that's set to stay all day long without you having to worry about any transferring! It is available in 8 shades, created to 'bring all skin shades to life', from fairest to deepest.
Whether you are looking for 'all-over warmth' or something more complex like the ultimate contour, the sun stalk'r is the perfect product! Plus with the addition of mango as well as papaya fruit extract, you are surely going to be left with a 'natural, healthy-looking' glow and that's with just one swipe as the brand state. It's blend-able along with buildable qualities surely makes it worth checking it out!
Well people supernatural stick bronzer
The supernatural stick bronzer is a multi use hydrating bronzer with a creamy and hydrating formula. It is designed to create dimension along with adding natural warmth to your complexion. The multi use feature allows this stick to be used on the lips, cheeks and eyelids! It comes in 4 different hues with neutral tan being their lightest creation to rich bronze which is the deepest shade.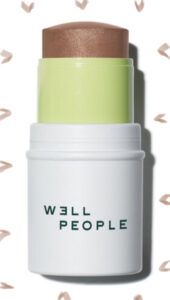 You would also be pleased to know this bronzer is enriched with plant based goodness which include jojoba oil, sunflower seed oil, green tea, ensuring your skin is well nourished, leaving a dewy sheen!Plus this supernatural bronzer is free from junk like sulfates, parabens, talc, phthalates and much more!
Right that's it for now peeps!
Have a great day!
Please follow and like us: