I have been meaning to purchase the glossier eyeliner for a while now however only just realised that it is vegan friendly! So of course upon knowing that I weren't going to wait any longer especially since I am a fan of their pro tip liquid liner!
Enough said, I think we shall check how the pencil performs, maybe see if it is as good as it's sister liner! So if you would like to see my favourite aspects as well as anything I weren't too keen on then do continue reading this glossier no 1 pencil review!
Enjoy!
Quick Overview
Pros
Great choice of colours
Long lasting
Easy to apply
Texture is good
Cons
Not entirely waterproof
Could be blendable
Description
The glossier eyeliner is described as a 'creamy, long-wearing' pencil liner which is designed to supply you with endless options of creativity thanks to it is addition of 10 amazingly colourful shades! Each colour is said to glide along smoothly leaving behind a rich and buildable colour that is also effortlessly blendable.
The glossier eyeliner is suitable for anyone, whether you want a bold look or a more subtle approach thanks to it is demi matte finish.
The formula is also said to be soft but not too soft which means no tugging nor rubbing is required, just a gentle hand! Though it is soft, the dry down time is just long enough to allow you to blend for a diffused smokey look but not too long where you are waiting for no reason. The brand state this eyeliner should provide you of up to 12 hours of no touch up results! Now that sounds like something I can do with!
Shades
I really like what the glossier no1 pencil have to offer in terms of shade options. You get spoiled with around 10 shades. And no they are not your usual black, brown hues, there is variety here! You have 'rococo', a deep eggplant, 'ochre' which is described as a dandelion yellow, 'muse' a beautiful soft lavender, 'patina' which is a light grey-blue and much more! As you can tell by then name they are quite unique!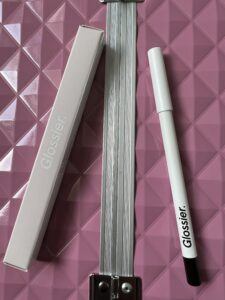 Don't worry you also get the popular brown and deep black shade for those of you who prefer to stick on the safe side. Despite having many shades on offer I decided to go for the boring black as you may say.
Don't ask me why! I guess I'd rather get a shade I will actually use then a beautiful colourful one that I may or may not use but go waste for sure. But I certainly recommend the others, I may even get myself one next time!
Anyways the shade that I purchased 'ink', which is a rich black hue does have a nice pigment to it. I wouldn't say it is quite as intense as the Barry M waterproof liner but it does produce a decent hue for a 'defined' look.
Application
I'll get straight into it, application overall is easy as you would expect with pencil liners. I prefer pencil or pens since they are easy to hold and are more firm compared to the flimsy brush tips which you'll find. I mean don't get me wrong pens with brush tips are awesome but the ones that come with pots just aren't it for me!
Anyways coming back the glossier pencil, it's easy to hold as well as apply. The consistency of the formula I would say is decent, I mean I've experienced more smoother ones but still I would agree with what the brand state, 'glides on smoothly' for sure!
The pencil does follow along nicely leaving behind a hue that isn't too intense yet still rich enough to pull off a smokey look.
How about sharpening? Now that is a question I can't as of yet answer. I will have to use it a few more times until it is time to give it some life! And I'll be sure to update you peeps with the results.
Lastage
'Formulated to last up to 12 hours'! So is this claim true? I mean we sure would like this to be true!
Well I would definitely say it is long-lasting however not quite 12 hours, more like 9. I woudn't say the lastage is bad, it is surely a strength of this pencil in my opinion. The glossier liner roughly gave me around 9 hours of intense colour till it decided to gradually fade. I also noticed some of it had started to drag down.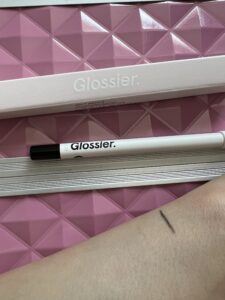 Just to let you know I weren't wearing any foundation only a tinted moisturizer which could be the reason for the liner making it is way south. Maybe I should try this liner with a full coverage or thicker foundation next time to resolve the issue as well as see it is true potential.
Anyways despite this I am happy with the outcome in terms of lastage. During most of the time I was wearing it the liner presented no other issue other than the ones mentioned.
Overall
So overall I give the glossier eyeliner a 7.5/10! I really like the shade spectrum on offer along with the blendable feature, since it allows you time to build your art. The lastage is decent too with not many major issues.
The consistency is perfect as well as the gentle formula, making it suitable for my sensitive eyes. With that being said I would give it more points if it had a more stronger waterproof feature since I do come in contact with water often but I'm not complaining since it does stay strong for quite a while!
I would recommend anyone with sensitive eyes who are looking for a pencil liner that can be used for an array of looks including subtle or bold effects to give this no1 pencil a try. It is certainly blend able especially as soon as you apply, and definitely allows you to create the 'sharp, defined' result you're after!
That's it for now peeps!
But if you don't want to leave then I suggest you tap here to check out more equally as amazing waterproof pencil eyeliners!
Have a great day!
Please follow and like us: