I decided to buy the hourglass brow gel as I'm a fan of these types of finishes, they offer quick results making then ideal for when you're in a hurry and are easy to get on, not needing any other tools too, travel friendly in other words.
So here is my opinion on the hourglass arch brow volumizing fiber gel, I'll go through my favourite aspects as well as anything I weren't a fan of, so if you'd like to find out then stay with me!
Let's begin!
Disclosure: This post may contain affiliate links which means that I may earn commission if click and make a purchase but no additional cost to you.
Description
The hourglass brow gel is a 'microfiber-infused' formula which is said to build instant colour as well as volume, definitely something I'm after!
This gel comes with an applicator which is dual sided, a long and short bristles, allowing you to pick the 'intensity' which best suits you.
The formula features a 'smudge and flake proof' gel which provides the 'freedom to go from perfectly sculpted to perfectly untamed' easily.
There are six shades to select from, that includes:
Blonde – suitable for light to medium neutral blonde
Warm blonde – great for dark to strawberry blonde
Auburn – is for medium to feel red tone
Soft brunette – light to medium cool brown
Warm brunette – medium brown with warm tone
Dark brunette – last but not least the shade I have suitable for deep browns which hourglass state has warm undertones.
Shade selection = 7/10!
Application
Hourglass suggest using the brush with short upward strokes through your eyebrows in the direction of the hair growth.
To add volume or colour, hourglass state you should use the short bristles to brush in opposite direction of hair growth to deposit colour and then the long bristles to brush in an upward and outward motion to help create desired brow shape.
I used the gel to add a little colour as well as volume. Application is definitely easy and quick. The different bristle size did make somewhat of a difference. The short ones helped deposit colour evenly whereas the longer ones made brushing the hair easier.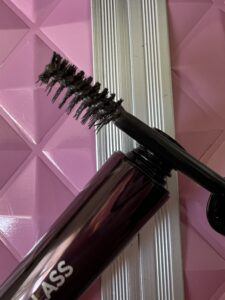 The arch brow can be used alone or layered with other products, ideally the brands own arch brow collection. I used it on its own and can say it does a great job in adding colour and giving off a neat natural look overall.
The pigmentation of the gel is not bad, it isn't too thick neither runny. The colour is visible in the first few coats, the more you layer the more deeper the tone.
Application = 8/10!
Lastage
The formula is said to be smudge and flake proof which means it should have some resistance to it, making it long-lasting. So how was it?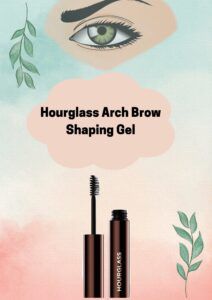 Well I used this gel for around 6 hours to work and didn't experience any drastic changes. There were no smudging that's for sure however it did flake a little towards the end, there were a few dry fallout near my brows which became more noticeable when I touched my brows, by the way I have a habit of doing that.
If I were to wear it for a while longer, I think I maybe required to top up just to keep that bold look going strong for the rest of the day, otherwise I think it does well in the lastage area.
Lastage = 7/10!
Overall
Overall I give the hourglass brow gel an 7/10! It lasts for a good amount of time, has a decent pigmentation and is easy to apply. The brush is pretty cool designed too. However, I would like to see more shades in their range and if the formula didn't dry too quickly inside the tube.
It's suitable for anyone who needs to add quick tint to their brows!
That's it for now peeps!
If you'd like to purchase your own hourglass brow gel then tap here!
Or if you'd like to view more awesome vegan brow gels then click here!
Have a great day!
Please follow and like us: