The bare minerals bare pro lipstick was a strange one to end up in my collection as I don't really go for mattes thanks to my dry lips! They just don't get along with them.
So how did I end up purchasing it? Well I guess it was the clean ingredients that got me as well as some persuasion from my sister.
Anyways so I did buy it and decided to check it out. If you'd like to know how I found it, including my favourite aspects then please do read on!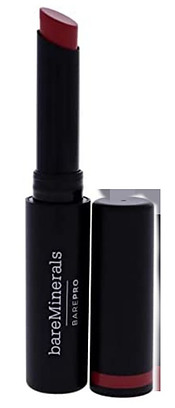 Starting with what bare minerals state about this lipstick…
Description
The bare minerals bare pro lipstick features a 'rich, full coverage' colour with just one swipe according to the brand! It's formula is said to be long wearing, able to stay all day whilst at the same time feeling 'weightless and comfortable'.
What's even more amazing is their extensive list of skin caring ingredients!
Some of these ingredients include sunflower seed, jojoba wax, raspberry and blackcurrant seed oil which provide antioxidant benefits as well as protect the skin from environmental aggressors.
Bare minerals state other reasons why we'll love the lipstick is because its smudge proof, budge proof, fade resistant and feather resistant! It's also clean, free from synthetic fragrances!
Enough of that! Think it's time to check out how it actually performs!
Shades
The bare pro lipstick comes in a wide variety of shades, with over 15 shades I'd like to think there is something for everyone to try! There are light shades and deep tones too.
'flattering shades for all skin tones' say bare minerals.
Most the shades are of rosey, pink colour as well as deep purples and reds. The shades are certainly suitable for daily wear or for nights out.
Application
I love the application, it's super easy to get on and blendable. The lipstick width isn't thick it's the perfect size. It makes applying neat. Some lipsticks are quite wide which makes applying messy especially if you have thin or small lips like me.
I think the consistency of the lipstick plays a part in the ease of application as its creamy and smooth. I also like how though it is a matte finish it isn't drying. I wouldn't say it's really moisturizing for me either but it'll do.
Usually I stay away from matte lipsticks as my lips are naturally dry so these types of finishes don't do well on my pout however the bare minerals bare pro is an exception.
Just as applying is easy, removing the pigment is also as easy, grab some makeup remover on a pad, it doesn't even have to be a waterproof formula, and give it a gentle swipe and it's off!
Pigmentation
The pigmentation is said to be rich with even one swipe being able to provide full coverage, which does sound quite impressive.
So for me I had to coat and then re coat to get it to appear at a deeper level, I'm talking about the lighter shades, I wouldn't be too sure how the darker hues present themselves but I would like to think they're more pigmented.
The pigment or formula should I say, isn't thick which makes it weightless on the lips too, basically it doesn't feel like you're wearing anything, with two coats. I didn't go further with coating so I'm not sure how tight it would feel on the lips the more you apply.
Lastage
'vegan formula wears for up to 8 hours'
The lastage is definitely one of the positives about this lipstick, it does for sure get through 6 hours easily without much breakdown.
For 8 hours however I think it might need a few tweaking judging by how it did gradually fade a little towards the end. I didn't experience
To keep it going strong you might need to reapply which I'm not fussed about as it's super easy to get on. Though bare minerals state this lipstick doesn't transfer, I find it does leave some minor stain say if I'm drinking tea or something.
So overall I rate this lipstick an 8.5/10! And trust me that is a great score coming from me as I ain't a fan of mattes!
If you are looking for something which is made from a bunch of natural ingredients, doesn't feather or smudge easily and has a decent lastage then I suggest you definitely check the bare minerals bare pro lipstick!
The only downside is that you have to watch out how the colours turn out as a few of them do seem to tell a different shade then actually shown!
That's it for now peeps!
But if you don't want to leave then tap here for more awesome vegan lipsticks!
Have a great day!
Please follow and like us: