I've heard quite a few good things about the inglot amc gel eyeliner but to merely hear isn't promising enough, so the only way to truly see how it is, is to purchase your very own!
So if you'd like to know what my favourite aspects of the inglot amc eyeliner were then please do continue reading and find out!
Okay let's begin!
Disclosure: This post may contain affiliate links which means that I may earn commission if click and make a purchase but no additional cost to you.
Description
Inglot state their AMC gel eyeliner is a high intensity pigment providing product which is ideal for 'rich colour coverage' after just one coat! That does sound awesome!
The inglot gel liner is said to feature a creamy consistency that dries down to a 'long-lasting, smudge proof' as well as crease proof finish. The formula is also supposed to be waterproof which should reinforce the 'long-lasting' feature.
All of inglots products are cruelty-free however you'll have to look out for the vegan friendly logo!
Shades
There are plenty of awesome shades to pick from, with around 18! However, if you're looking exclusively for vegan shades then make sure to keep an eye out for the vegan logo.
I think from the 18 there are 12 which are vegan formulated, so a good deal! As for what colour they have to offer, there's black which is the one I have, cream, yellow, dark green, blue, red, brown, grey, and purple to name a few.
The cream shade I was going to purchase as it is an interesting colour however I had to test out one shade first before going all out and spending!
Pigmentation
Inglot state their gel liner features a 'high intensity pigment' which is supposed to be creamy as well. That to me sounds like a dream gel liner, creamy and saturated!
So how was the pigmentation?
I give it a thumbs up, it's exactly how inglot say it is! 'high intensity' check!
You literally only need one small dip and it's enough to give you a beautiful crisp line! The black shade provides a rich even pigment overall.
Application
Moving onto application!
To apply, I took some gel out onto the back of my hand using a cotton bud and what can I say it came along easily and smoothly.
Using a thin eyeliner brush I rolled it into the pigment and gently drew a small thin line across my lid. The pigment glided smoothly without any dragging required. It does dry up pretty quickly considering how rich the pigment is, so you can get back to business soon too.
The thing about formulas which dry quick is that you don't need to worry about them transferring, it's the same with inglot, you don't experience any product depositing elsewhere!
Lastage
So how long is 'long-lasting'?
I applied the gel around 10 o clock and decided to remove it roughly 8 hours later, and the results were pretty impressive!
I have oily lids which means many products start to fade gradually however this wasn't the case with inglots liner, it literally stayed in its original form as when I first applied it!
There were no fading, smudging or transferring even at the last hour. The pigment still kept its rich tone too. Because its smudge proof I even apply it to my brows, where I've got a habit of often touching!
So does that mean it'll be hard to remove? I mean you are definitely going to be needing more than just water! Usually a makeup remover made for strong or waterproof pigments does the trick, just gently give it a wipe and it'll be off!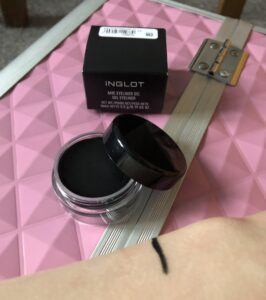 Overall I rate the inglot eyeliner an 9/10! That itself is an impressive score, I don't give much if any products a 9 so it definitely says a lot about how much I liked this liner.
I'm definitely going to be giving their cream shade a try as well, it would be a great and first cream addition to my collection!
So this liner is long-lasting, highly pigmented, waterproof and smooth! It's ideal for any look in my opinion, whether it's the everyday look or a dramatic effect, the inglot is pretty versatile!
If you want to check out the inglot gel liner for yourselves then I suggest you tap here!
That's it for now peeps! What do you think about inglot, are you a fan of gel liners or prefer the more subtle pencil? Let me know in the comment section below!
If you prefer gel liners then why not tap here to check out some more awesome products!
Have a great day!
Please follow and like us: