I was on the search for an urban decay eyeshadow palette and of course a vegan option. So I typed exactly that and somehow stumbled upon the naked urban decay eyeshadow palette. I purchased it without looking at the ingredients as it was categorised in the vegan section.
I was super excited when it had arrived and of course opened it up right away. After I had opened it I then randomly decided to take a look at the ingredients as I do with quite a few products, and that's when I was in a bit of a shock!
It Wasn't Vegan! A few shades inside the palette contain animal derived ingredients such as carmine! I was upset! Boohoo! It was too late to return it to after using some of it. Grrrr!
Okay enough of that rant, if you are here to get a little experience of how this urban decay naked petite heat eyeshadow palette performs then please do read ahead as I go through my favourite aspects as well as any areas which weren't too great!
Let's start with what's on the outside!
Disclosure: This post may contain affiliate links which means that I may earn commission if click and make a purchase but no additional cost to you.
Packaging
The packaging is pretty cool, it's definitely appealing to the eye, well at least in my eyes. It has the brand's name as well as the palettes at the front in a golden mixed font, with as the name suggests a heat firey looking background. There are also roses printed lightly but still quite clear at the bottom of the cover.
The roses are also in the same colour therefore fit nicely with the main theme of the palette. When you open it, you reveal the shades at the bottom and at the top is a mirror, which if you ask me is pretty handy, I use it all the time. Usually with a small palette you don't really get a mirror so this is something different and awesome.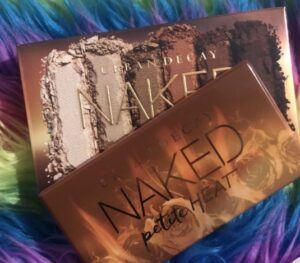 Shades
The urban decay naked petite heat eyeshadow palette comes with six different shades, five mattes made for the eyelid and one demi matte great for highlighting.
These shades mainly have a reddish, orangey tone to them, with a brown as well as a nude.
The first colour 'inhale' is a cream demi matte highlighter. The shades that follow are 'vibrate' a soft nude matte, perfect for the base, 'hot spell' a terracotta, ' wild thing ' an orangey matte, ' heist 'a rich cayenne and last but not least ' strike ' which is a reddish brown shade.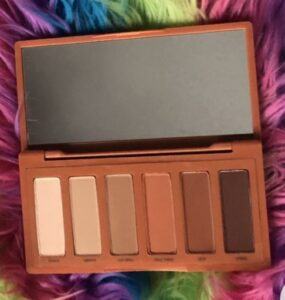 The shade choices are great to me, mainly because I can use them for an every day as well as a dramatic look.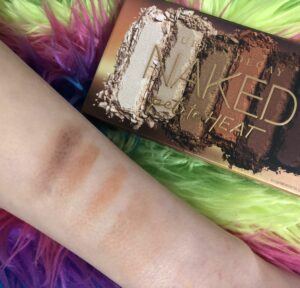 Blendability/application
Urban decay state that their shades in this naked heat palette contain a pigment infusion system which should give them a rich velvety texture that's easy to blend.
And I'd like to tell you the truth, it definitely is easy to blend. I applied the base using my fingers, then switched to a small brush when it came to defining the eye as well as adding effect. It went on smoothly as did blending without no problems especially with using the eye primer. It didn't require much effort to drag the product where I wanted it so overall it's a thumbs up.
Pigmentation
One of the other things which I like about this palette is the colour pay off, I'd say it's got a medium pigmentation.
Not too light that you can hardly see it until you've used nearly the whole shade but neither too saturated that the colour doesn't come off. It's just right!
Even the shade with the slight shimmer looks great as a highlighter, as with all of them you only need one or two dabs of the colour and you get a great clearly visible look.
Lastage
The lastage is pretty decent, even more so with setting spray and primer just like urban decay recommend.
The eyeshadow held onto my lids quite well eventhough I have oily lids and often struggle with shadows staying on. So good job with that urban decay!
I'm not sure how long it would last without the spray or primer, my guess is it's probably not that long.
It got through at least 7 or more hours of busyness (if that even is a word).
Of course I had to look for at least one downside and do you want to guess what that was? Slight clue it involves cleaning up after.
Okay I'll tell you, it's fallout. After I finished using the shadow, I noticed a few crumbs around the palette. I mean it wasn't as much to the point that it would put me off from purchasing it again, I've seen worse.
Oh I forgot to add, there are two colours which in my opinion look quite similar to each other, that's when applied. 'Hot spell' and 'heist' seem hard to tell if you manage to over blend it or when just applying.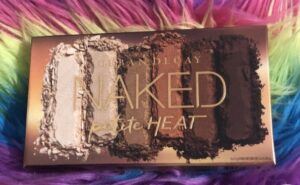 Overall I'd rate this palette a 9/10 thanks to it's lastage, perfect pigmentation (see the alliteration), smooth blending and application.
So if you are looking for a travel friendly palette which has shades that go well together and you can easily switch between a day and an evening look then you might like this!
Tap here to view the full eyeshadow heat palette instead of the petite, are they similar?
Or if you are after strictly vegan eyeshadow palettes, then tap here for some awesome examples!
Have you ever mistaken a non-vegan product for a vegan one? I'd love to know, drop the answers down below as well as any other questions you may have or suggestions!
Have a great day!?
Please follow and like us: