Have you tried even the most bestest foundations in history but still end up with a flakey or patchy skin somewhere. Well that could be down to not wearing the correct primer for your skin type. If you have dry skin you need to look out for hydrating or moisturizing formulas. And that's why I'm here to show you some examples of the best face primer for dry skin that surely will tame that thirsty skin of yours!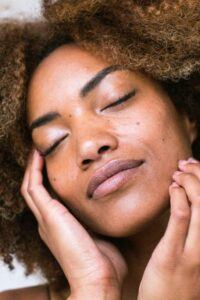 Primers formulated with aloe vera, Shea butter, or hyaluronic acid are usually ideal ingredients for dry skins. Either water based or oil based work well with dry skin, unlike oily skin which don't get along with oil based formulas. Dry skins are thirsty so do end up absorbing makeup, leaving dry patches of makeup.
Okay let's begin!
Quick Overview
Milk hydro grip primer
Bare minerals good hydrations
NYX bare with me hydrating jelly primer
Wet n wild prime focus primer serum
Cover fx water cloud primer
Wonderfilter brightening primer
Milk hydro grip primer
First up on the list is the hydro grip primer by milk. The award winner of the best of beauty primer shows that it has more to offer than just it's packaging.
This primer has a clean formula thanks to it being free from parabens, silicone and oil.
The inclusion of aloe water, hyaluronic acid, vitamin b3 and b5 as well as sweet cherry all make it especially beneficial for dry skin.
These ingredients provide additional moisturisation, which dry skin peeps definitely are in need of as well as hydration which comes from the cannabis seed extract.
And don't forget the antioxidant benefits for a cleaner and healthier looking skin.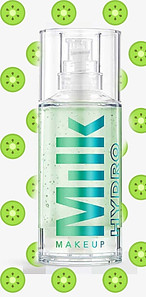 You're probably wondering if it has any primer features, well of course it does. That's where the blue agave extract comes into play.
It forms an invisible layer which helps create an even canvas that locks in your beautiful work for up to 12 hours.
Bare minerals good hydrations
This primer was specifically designed for dry skin peeps, the best primer for dry skin! So you can definitely get ready to wave goodbye to that flakey skin.
It promises to provide immediate results of hydration that lasts long too, so you won't be seeing any dryness or flakiness for quite a while thanks to this primer!
For those of you who want to know where the hydration is going to come from, you can thank the hyaluronic acid, glycerin and coconut alkenes. And guess what it does more than just that!
The 'powerful skin plumping' ingredients help to improve the appearance of fine lines as well as wrinkles, so no settling into creases with this cool product.
NYX bare with me hydrating jelly primer
A little different in texture compared to the other primers on here, this gel formula 'hydrates the complexion' as well as soften the appearance of pores so that you are left with not only a bright but a fresh looking glow on the face too!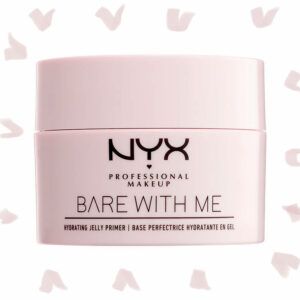 And what does it do to help make your makeup application easy? Well as the formula is water based, it's apparently supposed to leave you with a smooth even base for you to begin your art.
Wet n wild prime focus primer serum
This 'ultra-hydrating water-base serum' doesn't only prime the skin, it preps as well as refines.
The ultra hydrating and skin nourishing ingredients include the wonderful rose water, green leaf extract and camellia leaf extract, which all work together to help provide you a moisturized and smooth skin.

It's silky smooth creamy texture allows foundation to effortlessly glide, creating a lightweight flawless finish.
Cover FX water cloud primer
Onto the next one, the cover FX water cloud primer, and as you can tell by the name it sounds pretty moisturizing! This primer replaced the anti-aging product cover FX once sold.
Anyways, water cloud aims to 'instantly refresh the complexion and defends skin against pollution and blue light'. That sounds like great to wear daily and good protection.
It's formulated with a special ingredient, that is the pot marigold flower extract, which is known to 'soothe, hydrate and protect the skin'. Sounds like something we need for our precious skins! Right?
Wonderfilter brightening primer
'Friends will have skin envy'
According to wonderfilter your friends will definitely have 'skin envy' with this hybrid primer skincare-makeup mashup. It features a creamy gel like texture that works to blur imperfections ultimately leaving a naturally radiant glow which brightens the look of your skin overall, with 96% of the 54 women trialed agreeing!
It's more than just a primer; the hollow prism pearls help produce a natural 'inner glow' effect whilst micro pearls offer a 'multi tonal colour correcting' feature, making a great base for your creations!
This primer is clean, vegan, cruelty free as well as fragrance free!
That's it for now peeps, there you have the best primer for dry skin!
Do you use primers in your makeup routine? What's your favourite? Drop your answers down below!
If you'd like to view more primers then tap here for sensitive skin peeps!
Or want something to top it up then check out these foundations made to quench your skins thirst!
Have a great day!?
Please follow and like us: