You may have searched for the best full coverage foundation for dry skin for many reasons, it could be you have tried and tested a range of products but they just aren't right or maybe you don't want to go through the hassle of searching and want it easier.
Well whatever the reason be I totally got you, that's why I've decided to give you a few of the best foundations for dry skin that'll surely quench your thirst and to be more specific, they provide medium to full coverage.
Not to mention they are all vegan too! YAY!
Choosing the right foundation is crucial if you are aiming for (sure most of you are) a nice and smooth texture unless you are naturally gifted with it, then lucky you!
Ways to ensure you have maximum chances of achieving a smooth surface!
Obviously the foundation isn't going to give you the bestest result without any input from you, I mean it can give you a decent outcome but I'm sure you want the topmost result, don't you? So here we go:
 Make sure you drink enough water to help your skin as much as possible
Try to use products with no heavy scent as it can irritate the skin more.
Using a primer before also helps to smooth the skins surface which decrease the dry flakes therefore helping the foundation application.
Quick Overview 
Charlotte Tilbury flawless airbrush foundation
Too faced born this way
Fenty beauty pro filter hydrating long wear foundation
Inika certified organic liquid foundation
100% pure fruit pigmented second skin
NYX born to glow
Rare beauty liquid touch weightless foundation
Charlotte Tilbury flawless airbrush foundation
Charlotte Tilbury has a wide range of foundations for every skin type and tone, with an enormous 44 shades.
You can find full, medium and light coverage too! So it was obvious that this brand is going to be on the list.
The best foundation that achieves a full coverage for all the dry skin team is the flawless airbrush foundation. It's in the name FLAWLESS! It's also waterproof and mineral.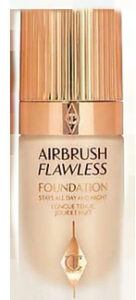 This particular product Charlotte has made includes many skin benefiting ingredients but we are after the 'ingredients to hydrate' as dry skin are really thirsty so they need our help to quench the thirst with hydration.
If you want full coverage foundation, that's weightless with long-lasting power and blends with ease then you'll find this item a wonder.
Too faced born this way foundation hits you with a 'undetectable finish for a naturally flawless make-up look' to ensure you can't see the barrier between your skin and the foundation leaving you with a smooth canvas.
Why this foundation for the dry skin population? Well let me tell you then.
This foundation contains coconut water which as you know hydrates the skin and another special ingredient is hyaluronic acid which helps retain moisture, that way the moisture is trapped and has nowhere to go. Woohaahaaa!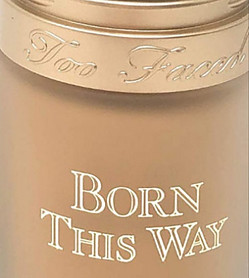 Fenty beauty pro filt'r hydrating longwear foundation
The pro filt'r hydrating foundation is actually created after fans demanded a more special formula than the original pro filt'r soft matte foundation.
This Fenty beauty hydrating longwear foundation leaves your skin 'instantly smooth with a shiny finish'.
And guess what's even cooler, its made with 'climate adaptive technology' so you don't have to worry about sweat and humidity or clogged pores!
The magic ingredients are grape seed oil, which moisturizers and hydrates the skin without feeling heavy and the other ingredient is sodium hyaluronate which holds onto the skins water therefore keeping it moist and hydrated!
The not-finding-the-right-shade problem doesn't exist with Fenty beauty! There are around 50 different shades!
That's what I'm talking about! (Sorry about the shouting, but I have to) It's also cruelty-free!
Inika certified organic liquid foundation
This product is a natural thanks to it being mineral and organic. Now that's something to try! You can easily build the medium coverage to full with its easily buildable formula. Once you've got it on you won't even feel it on, its really light!

Inika's very own certified organic liquid foundation states its suitable for all skin types just like many of these foundations but I think its just especially great for the dry skinned individuals, as the formula is infused with hyaluronic acid which as mentioned before hydrates the skin.
Why not check out the full review here!
100% pure fruit pigmented second skin
Judging by the name you probably will know how it feels and looks on you, like a second skin. Well its all down to the 'ultra light serum'.
And guess what? (The clue is in the title) its fruit pigmented too! Cool right?
This foundation has many skin benefiting ingredients such as turmeric to fight inflammation and brighten skin, bamboo silica to strengthen skin for a radiant complexion and many others.
Don't fret I didn't forget the vital olive squalane which moisturizes and soothes skin. This product leaves you with a nice satin finish.
Nyx born to glow
The nyx born to glow foundation features a 45 'truly flattering shade' collection with a naturally radiant finish, making it a great hydrating option for dry skin peeps! The formula is said to be long lasting so you can keep shining without worrying about your foundation.
It is said to blend like a dream and by working with the skin it apparently ensures you are left with a smooth even toned look.
Rare beauty liquid touch weightless foundation
The rare beauty foundation by Selena Gomez is available in a massive shade range with over a whopping 30 shades, various undertones too, warm, neutral as well as cool! It's weightless formula makes this foundation not only breathable, it won't clog pores nor cause cakiness.
This foundation allows you to build from medium coverage that promises to not dry out you thirsty skin for an all day wear too! It aims to leave your skin with' an even tone, smoother-looking pores' as well as a well nourished skin thanks to the addition of white water lily, lotus along with gardenia. The texture is more serum like as opposed to the traditional gloopy foundation.
Do you have dry skin? What's your favourite skin products for your skin type?
If you don't want to leave then click here for primers created for dry skin!
Or if you prefer to moisturise first then you need to see these!
Tap here to view lipstick especially made for dry lips!
Or if you are unsure of your skin type then learn more here!
If you have any suggestions or questions then drop them in the comment section for them to be answered.
Please follow and like us: