The Fenty beauty match stick I purchased, according to their site is new in, and since I was after a highlighter, I thought why not give it a go, beside it can be used for blush too!
So if you'd like to know how this skinstick performs then hang tight as I go through my favourite aspects of it as well as anything I weren't a fan of!
Here we go!
Disclosure: This post may contain affiliate links which means that I may earn commission if click and make a purchase but no additional cost to you.
Description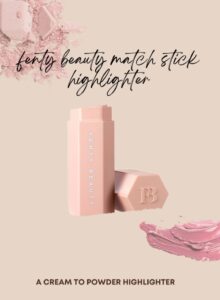 The match stick, more specifically shimmer skinstick is more than just a highlighter, it's a blush and can be used as an enhancer too. Quite versatile! It's described as a 'longwear, makeup stick with a light as air' formula which to me sounds like a dream.
And of course as it is a highlighter, it features a shimmer formula with a cream to powder finish, one of my favourite types. Fenty state their stick is 'weightless, blendable and LIVES to be layered'. Sounds interesting to me.
The match stix, like many of fentys other products can be mixed, matched and multiplied with various colours, even creating a 'glamorous iridescence'.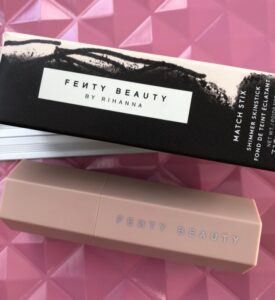 Application
Let me start off by saying application is super easy, the roundness of the highlighter tip makes it much smoother to apply compared to if it were a sharp or defined sculpted shape. It gives it a soft look too.
Whilst being able to deliver well at a targeted area it also covers a decent amount of area thanks to its width. I don't need to go over the same application twice, if you get what I mean.
For example if I want to apply on my cheekbones, one swipe is enough instead of me having to go for another round to create a decent span of shimmer.
I think the cream to powder formula definitely adds to the ease of application too!
Pigmentation
As mentioned the pigmentation or texture is a creamy to powder finish, but is it actually?
Well I can confirm it most certainly possesses a creamy consistency when applying. It has the smoothness to it and easily follows along without needing to drag.
What about the powder? Well I'm not too sure which part of the formula resembles a powder form, it doesn't feel gritty or anything. Let me know if you peeps know.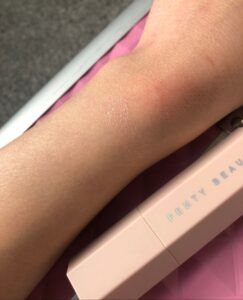 Lastage
Lastage mentioned by the brand should be 'long wearing' so was it?
I can say it definitely has some stay power compared to my previously used highlighters. I have combination skin with my forehead producing the most oil and cheeks staying as dry as possible!
Using this highlighter on my cheeks as a blush worked great, providing colour for around 6 hours until I had to retouch due to the colour fade, mind you the shimmer can still be seen.
As for highlighting and enhancing, I think it is definitely this products strength as it was still going strong till I washed it off at the 8th mark!
This means the highlighter works just as good on oily skin as dry too! I'm quite impressed with how it managed to look good on both skin types. Great job Rihanna!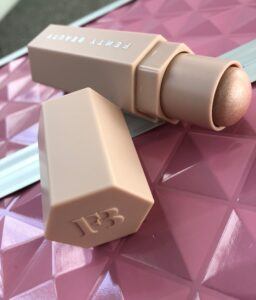 Conclusion
Overall I rate this skinstick a 9/10! It is very versatile doubling up as a blush and highlighter, easily appliable, travel friendly and long-lasting too with good amount of glimmer! What more could one want in a highlighter.
I would like to add if you aren't a fan of glimmer then this product might not be your best friend.
That's it for now peeps but if you don't want to leave then tap here to check out more awesome vegan highlighters!
Have you tried any of fentys products, what do you think of them?
I personally like the Fenty beauty fly liner for its precision!
Otherwise have a great day!
Please follow and like us: