The Kat Von D everlasting liquid lipstick is a matte lipstick designed to glide like a lip gloss and apparently is created for every skin tone.
It's said to be long-lasting and is packed with natural conditioners for the lips such as sunflower seed wax and vitamin E to help nourish your pout.
I know I definitely needed some, actually a lot of nourishment for my overly dry lips, so I had to check it out and see to what extent this was true.
So here's what I liked about the kat von everlasting liquid lipstick and what I felt didn't really sit with me!
Enjoy!
Disclosure: This post may contain affiliate links which means that I may earn commission if click and make a purchase but don't worry at no additional cost to you.
Description
Kvd claim this lipstick is a 'long lasting, transfer resistant matte lip colour' which only requires one swipe for it to show it's richly pigmented formula.
The intense creamy formula features an easy glide and comfortable wear with natural lip conditioners as a bonus!
Packaging
The packaging is similar to most of kat Von D's products which makes it easily distinguishable. The outer packaging is in black with a nice rose detail printed onto it in silver along with the brands name and the lipstick.
The actual lipstick tube also has the same rose detail on the cap, that stops midway on the bottle. It has a nice and unique design overall.
Application
Application is actually smooth and glides along easily, without having the need to drag harshly in other words 'an effortless swipe'.
The applicator is the usual shape, a little furry, with a point at the tip to allow precise and even distribution.
The tip is small enough for me to evenly cover the corner of my lips with the colour. I have small lips so this applicator definitely works with me, I am able to line my pout without going over the edge.
Moisturizing or drying / how do they feel on the lips?
I'm not going to lie, I was a little skeptical at first about whether it's going to totally dry my lips out or actually keep them under control.
As you know matte lipsticks tend to not be formulated with much oil, which means they are more likely to settle in cracks (which I have plenty of) and crevices of the lips, so I was fully expecting to be met with chapped lips.
Was I right?
Errm, to some extent but more towards the end. You see for me, I experienced a bit of both, at the first few hours, it kept my lips all nice and hydrated but as the day went on it started to dry my lips out.
Just to add I did moisturize my lips but not with kat Von D's very own lip liner which was actually suggested by kat Von, herself, maybe that would have helped.
As for how it felt on my lips, it wasn't heavy neither did it give that sticky feeling like some lip products do.
The texture of the lipstick does lean more to the creamy side with a liquid consistency like the brand states, and then once dried turns into matte. It does seem to dry pretty quick too!
Shades
There are plenty of shades available, over 40 different hues! You've got your neutrals, bolds and brights! I think there is a shade for every occasion.
I'm more of a fan of the neutral shades such as 'Lolita' which is a chestnut rose and 'Lovecraft' a mauve pink nude. I also like the look of the deep colour 'Woolf' and 'witches' which I've yet to try.
I currently have the shade 'outlaw' which is a brick-red kinda colour. I prefer to use this on special occasions such as outings!
Long lasting lip colour?
Kat Von D talks so highly of how long-wearing these lipsticks are, but are they for real?
Well I'll leave that for you to decide!
It stayed on my lips for around 6 hours, which kind of did surprise me as my dry lips don't usually allow a product to stay put for that long.
At around the sixth hour the lipstick started to fade but gradually and lightly instead of magically disappearing all at once, in thin air.
The pigmentation is decent too, I'd categorise it as having a high pigmentation, well I know the colour 'outlaw' is.
I at first did coat once but then decided to go for another layer for maximum results. By the way, the first coat does product visible results.
The only problem I do have with this product is that the colouring in the packaging seems a little different as to how it appears on the lip.
It doesn't seem to transfer easily or bleed although the colour did appear to fade whilst eating.
Overall
Overall I would rate this kat Von lipstick a 7.9/10!
I liked the shades as well as the texture and how it felt on my lips, the pigmentation was also fine and the ability to not crack my lips.
Would I buy this again?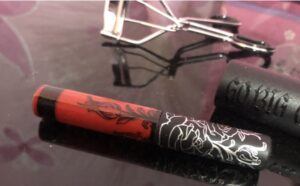 I think I would want to test the few other shades which I haven't tried yet and if they give me the same results then I would stick to wearing these when I'm not going to be eating a lot but other than that I'm happy with the results. You can check out the kat von d everlasting lipstick here!
Do you prefer matte lipsticks or semi matte? Let me know in the comment section below!
I suggest you check out these awesome vegan matte lipsticks too whilst you're here!
Have a great day!?
Please follow and like us: