You want to know how I somehow managed to pick this palette, well you see I was in my local drugstore just casually walking by, when the words 'throw shade' caught my eyes. I went a little closer, saw 'makeup obsession cosmetics contour palette' written on it and thought that sounds new, so I decided to give it a go!
I like trying new things, it gives a weird feeling of uncertainty.
(Hope I'm not sounding too weird)
Okay let's start the real talk now!
Quick overview:
Pros
Blends smoothly and easily
Lastage is good
A great mixture of shades
Handy mirror
Travel friendly size
Cons
Shades with shimmer weren't as long lasting
Some fallout
Weak packaging
What is the brand, makeup obsession about?
I'll just quickly run through what the brand, makeup obsession is about, as it is fairly new, so some of you may not know much about this cosmetic line.
Makeup obsession is a British beauty brand based in London. They are passed as cruelty free by peta and have many vegan options too. The brand is all about 'creating fun, fast and affordable beauty' for everyone.
They offer products in the face, lips and eyes category, from foundations to eyeshadow palettes and everything in between!
Packaging
Have you ever picked something based on how it looks?
Well that's what I did with this contour palette, I mean it's not as attractive as you might be imagining it. But I'd say it's simple yet effective.
The contour palette which I have comes in a two-tone coloured packaging, cream from the top which gradually fades into a brown mud like shade.
With the words 'throw shade' in a bronze shiny shade. It certainly does stand out against the plain background.
When you open it up, you have the shades on the bottom side and on top of them is a mirror, which gives me a pretty clear view.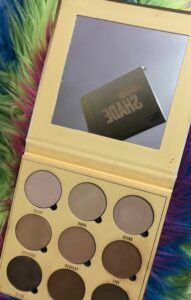 With some mirrors that come with products they distort your reflection, they don't give you a clear picture however with this palette this luckily wasn't the case.
The palette is made out of cardboard, it appears sturdy enough however the edges or hinges are quite soft. I know this as me opening and using it a couple of times has already weakened it and caused cracks.
I also use the mirror a lot even if I'm not using the pallette itself which probably explains why my palette didn't last as long.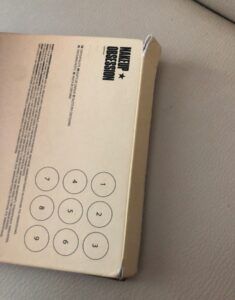 Update: okay peeps my mirror has officially departed the palette, like literally come off! Guess I'll have to make the most of both of them separately!
Shades
The throw shade contour palette consists of 9 different shades, from grayish hues to deep brown.
The lightest is 'sassy' which is probably the least I use whereas 'power' is the richest brown tone, great for deeper skin tones.
The shade which I mainly like to use is 'respect', a medium brown hue and 'attitude' also a brown with hints of golden to it.
Most the shades are plain apart from 'sassy', 'attitude' and 'ultra' which all have hints of shine to them. Great for using as a highlighter in my opinion.
Other shades are 'burn', 'sting', 'fire', 'ultra', and 'queen'.
Application
Application is quick and easy. The pigments are just right, not too harsh neither too light. It allows me to easily control how much I want to build up to.
I prefer using either the contour brush or the blush brush which I have to squeeze the bristles so they fan out a bit, allowing me to deposit colour more precisely.
I'm not sure about a beauty blender, it seems like it wouldn't create a neat soft look though.
I tried using the shades as an eyeshadow but it didn't come out as good as it did on my cheek, maybe because I have oily lids, I'm not sure. All I know is, it's great for contouring and even highlighting.
Blendability
They blend smoothly and evenly with no problem at all. I used the same brushes I applied with to blend at first, but then switched to a smaller brush to make sure I achieved a soft look, taking care not to drag the product too down.
I did try using my fingers to pack the colour on but it wasn't as evenly distributed so I think I'm going to stick with using the brushes.
I usually like using circular motions to blend and a sweeping one to apply when I'm contouring.
Here is the swatches, how two swipes of each shade looks like.
Lastage
I prepped my skin beforehand by moisturizing, cleansing, priming and all of that as well as setting it at the end. With all of this preparation it lasted me a good 6-6 1/2 hours. For me this is more than enough, so I'm happy with the results.
I knew the contour was struggling to get past the sixth hour when it slowly started to fade. Unfortunately the shades which had a little shimmer to them were also becoming less recognizable before that mark.
Overall I would give this contour palette an 8/10. I really loved the pigment and the different hues that are packaged within.
The lastage is pretty cool too especially if you look at the price £10! Only if the shimmer would last as long as the other shades that would be awesome!
I also did notice the shades leave a crumbly mess that can be seen after you have grabbed some product.
I think this would be great for anyone looking for an affordable, easily blendable contour palette which consists of shades that can be used for highlighting as well and even eyeshadow.
What's your favourite contour or highlight palette? I'd love to know, drop them down below in the comment section!
If you would like to check out awesome vegan foundations then tap here!
Have a great day! ?
Please follow and like us: