Alima pure is a totally cruelty free brand and do have a few vegan products however this alima pure lipstick is not vegan, so if you are a vegan then close your eyes or ears!
I don't usually do non vegan products but because a friend had gifted this velvet lipstick and it was practically just lying there I thought I'd get it out the way.
Also, a few people wanted to know how this lipstick performs so here we go!
According to alima pure:
This particular lipstick is made to give a rich colour with clean ingredients. The velvet lipstick is created with a blend of luxe natural oils as well as waxes.
This enables your lips to be moisturized with the rich hydrating colour, leaving you with a comfort touch that has a semi matte finish.
Apparently it acts like a lipstick but feels closer to a balm!
Disclosure: This post may contain affiliate links which means that I may earn commission if click and make a purchase but no additional cost to you.
Quick overview:
Pros
Easy and smooth application
Creamy formula
No feathering
Cons
Small shade range
Not vegan as of yet
Application
Application is simple and quick. They glide on effortlessly and evenly. They are shaped in the usual bullet form so pretty much work like any other similar shaped lip product.
I gave a go using the lip brush and I'd like to say it was quite smooth and creamy. I didn't need to drag the product so that's cool!
I really like the pigmentation too, it's not to highly pigmented or too transparent, just right if you ask me. Just one swipe is enough to provide a decent amount of coverage.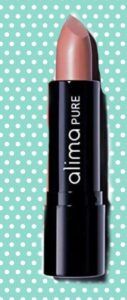 Texture/feel
I've heard different shades have different feels or texture to them but generally the lipsticks are ment to be a semi matte finish.
I know the shade Emma is quite smooth, almost butter like. The shade Lucy is slightly less hydrating but I wouldn't say it was dry, just more matte than semi.
According to some reviews which I've read some shades lean on the dryer side, I can't say which ones as I haven't personally tried them all.
The formula overall is pretty moisturizing eventhough I have dry lips, so the formula other than not being vegan is good.
If you have lips that aren't overly dry then I think you would find the formula smooth.
Ingredients are filled with moisturizing oils like the jojoba and coconut oil so I'm guessing that's probably where the lip balm like texture comes from.
Shades
This velvet lipstick currently holds only six different shades, which consists of reddish to pinky orange tones.
There's Emma, Lucy, Odessa, iris, Olivia and last but not least Stella! Reading out the names makes me feel like a teacher doing the register!
Emma- the one I've been given is a rosy pink, which I think is perfect for a daily natural look.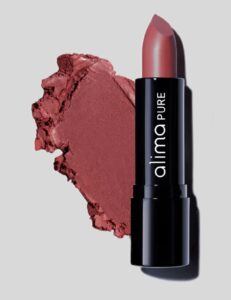 Lucy- creamy peach that's light a little similar to the natural lip shade which was also gifted.
Odessa- also a rosy pink but with a little more brightness to it.
Iris- an orangey red hue, terracotta
Olivia- a classic red minus the richness.
Stella- deep classic red, great for outings!
The shades do have a little shimmer to them when in the packaging which isn't so present when worn on the lip, to be fair I'm not really bothered about it. It still looks great!
Lastage
Both the lip colours lasted similar times, around 4-5 hours which isn't bad at all, judging the fact that I didn't prep my lips beforehand as I usually would.
I  had to do a little checking and fixing after I had eaten but otherwise there weren't no significant feathering or bleeding. I did wear a lip liner just to let you know.
Overall
I would give this lipstick a 7/10, the reasons being firstly the shade range is rather limiting and I'd prefer if it was a vegan formula.
Looking at the brighter side though I like the feel of the shades, well the ones that I currently have and also the rich pigment too!
Would I purchase them again is the real question?
Errm,I think not, you probably know why!
Hint: ingredients!
Do you have any lipsticks in mind that I can try out! Let me know in the comment section below!
If you'd like to purchase your lip colour click here!
Or tap here to check out some awesome vegan lipsticks!
Have a great day and stay safe!?
Please follow and like us: