A while back I purchased the kat Von D lock it foundation, and my experience with it was truly positive so I thought to myself why not try the kat von d lock it tattoo concealer, or to be more precise the kat Von D lock it concealer.
I really love that kat Von D is completely cruelty-free and vegan, making my purchase decision even the more easier.
Okay shall we start? Yeah I think that would be a good idea!
Disclosure: This post may contain affiliate links which means that I may earn commission if click and make a purchase but no additional cost to you.

First let's see what kat Von D states about her crème concealer:
"Lock-It Concealer Crème brings together everything you've ever wanted in a concealer—super-creamy, blendable full coverage and all-day long wear.
With a few smooth strokes, this multi-tasking concealer can brighten under-eyes, cover blemishes, correct discoloration, neutralize redness, contour and highlight… and that's only the beginning."
Now it's time to see to what extent this is true! (Well for me at least, as everyone has their own opinions)
Here goes!
Application/ blendability
"When it comes to application, KVD Vegan Beauty's Lock-It Concealer Crème is a dream come true."
What they mean by this is the unique teardrop shaped applicator, it has a tapered or pointed tip which makes applying in smaller areas like under the eyes or on the nose so much easier as it's precise. This is one of my favourite aspects of this concealer! It makes me feel much more of an artist.
You could also use the wider part of the applicator to cover larger areas faster.

As for blendability, it's quite an ease too but that's if you don't leave it on too long without blending.
I mistakenly applied the product under both eyes at the same time and took so long, so by the time I was finished with one eye, the other had dried! Oooops!
But don't worry overall blending is effortless! I used a small blending brush to smudge the product after applying using the doe shaped applicator.
Whilst applying I noticed you don't really need a lot of product, the lock it concealer has a high pigmentation, so peeps less is more.
Lightweight or heavyweight
"lightweight and comfortable on the skin."
Although kat Von D does state it's lightweight, it leans more onto the heavier side.
The creaminess of the formula makes it quite thick and you can definitely feel it on your skin especially under the eyes. I'm not really surprised, after all it is a 'crème concealer'.
With the thickness comes the coverage goodness. This concealer provides excellent coverage whether it's blemishes, spots or scars.
I used it to even out my skin and a few spots and was pleased with the results.
I find it also to be a great highlighter. I applied a small amount just above my brow and beneath to neaten my brows, I was pretty pleased with the results!
If you use a concealer brush then you can actually start off from a medium coverage and then go from there.
I used a beauty blender to attain a full coverage.
Hour or hours?
I was really curious as to how long it would last, would it be an hour or hours?
So here goes!
My preparation for the skin to see this concealers maximum stay power was a good moisturisation (is that even a word, well at least if you understand what I'm talking about then that's fine) followed by primer, foundation and then the concealer topped with some yummy whipped cream, JK, it was definitely a powder.
And drum roll please, the results were…
Approximately 7 1/2 hours! I'll leave that for you to decide if it's good enough but personally for me, I'm down with that.
Throughout I didn't experience any significant blotchiness neither any cakiness however towards the end I did start to notice creases especially when smiling.
Shade selection
"diverse skin tones and undertones to make sure we have a shade to cover your unique complexion."
This couldn't be more true! They have in my opinion an amazing range, with around 21 different shades, various undertones and for every skin tones.
Usually finding a concealer for myself can be a bit of a chore as I need to mix and test often but with kat Von D it was a straight match.
One of the shades is a 'white out' which you can mix with your shades or use as a base for eyeshadow or lip. I think it's a pretty cool and unique approach.
Overall I would rate this product an 8/10!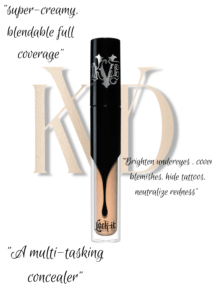 I'd like to say I'm really proud of their shade selection as well as the ease of application.
I think this concealer would be best reserved for special occasions as it's quite heavy for everyday use and from my experience those with dry skin or whoever is looking for a genuine full buildable coverage would probably want to give this a try as well as anyone else that's curious.
What's your opinion on kat Von D's makeup products?
You can view how the kat Von D tattoo eyeliner performs here! 
Or to view more vegan concealers tap here!
If you have any questions or suggestions please let me know in the comment section below!
Have a great day! ?
Please follow and like us: